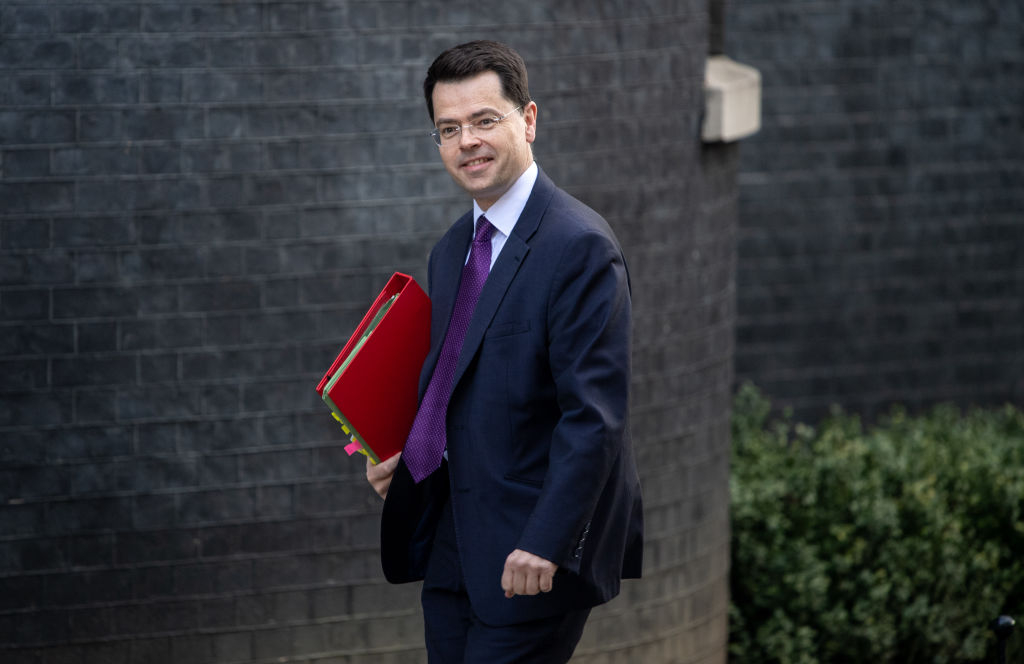 During a parliamentary debate on May 16, UK Communities Secretary James Brokenshire (pictured) rejected the All-Party Parliamentary Group's official definition of Islamophobia — described as a "backdoor blasphemy law" — on the grounds that it is too vague and has "potential consequences for freedom of speech." He said that the definition is not in conformity with the Equality Act 2010. (Photo by Chris J Ratcliffe/Getty Images)
Days after the British government rejected its preferred official definition of Islamophobia, the Muslim Council of Britain, the biggest Islamic organization in Britain, called for the ruling Conservative Party to be officially investigated for Islamophobia.

The dispute revolves around an effort by the All-Party Parliamentary Group (APPG) on British Muslims, a cross-party formation of around two-dozen MPs in the British Parliament, to institutionalize the definition of Islamophobia in racial rather than religious terms.
The APPG, in a November 2018 report titled, "Islamophobia Defined," proposed the following one-sentence definition of Islamophobia:
"Islamophobia is rooted in racism and is a type of racism that targets expressions of Muslimness or perceived Muslimness."
The definition, the result of six months of consultations, was endorsed by hundreds of Muslim organizations, London Mayor Sadiq Khan, as well as several political parties, including Labour, the Liberal Democrats and the Scottish Conservatives.
Proponents of the definition say that while it is true that Islam is not a race but a religion — a set of beliefs and ideas — and that Muslims are a set of believers from different races, ethnicities and nationalities, many Muslims experience prejudice, discrimination and a form of racism, which, they say, is structural. The director of the anti-racism think tank Runnymede Trust, Omar Khan, explained:
"Defining Islamophobia as anti-Muslim racism properly locates the issue as one in which groups of people are ascribed negative cultural and racial attributes which can lead to a wide range of experiences, either as an unconscious bias, prejudice, direct or indirect discrimination, structural inequality or hate incidents."
During a parliamentary debate at the House of Commons on May 16, Communities Secretary James Brokenshire rejected the APPG's definition — described as a "backdoor blasphemy law" — on the grounds that it is too vague and has "potential consequences for freedom of speech." He said that the definition is not in conformity with the Equality Act 2010, which defines "race" as comprising color, nationality and national or ethnic origins — not religious practice.
A government spokesman said that the APPG's definition had "not been broadly accepted" and needed "further careful consideration."
The proposed definition has been opposed by many Britons, including British Muslims, who warn that it would effectively shield Islam from scrutiny and valid criticism.
Speaking in the Commons debate, Conservative MP Sir John Hayes noted:
"The [APPG] report essentially identifies Islamophobia as an exercise in racism, which presumes that the Muslim peoples of this country, or any country, are a race. Given that Islam is a religion, that proposition is of itself contentious, and has been described as such by some critics of the report.

"People who ascribe to that religion come from all kinds of places, are all kinds of colors and creeds, and adopt all kinds of different practices. Rather like Christians, some take a more fundamentalist view of their faith than others. To describe them as a race is, of itself, a bold, and some would argue contentious, view, yet that is what the report does by identifying Islamophobia as a matter of anti-racism....

"Existing legislative arrangements on incitement to hatred, discrimination and a panoply of other measures allow the police, if they so choose, to pursue people who behave in a way that is unacceptable and, much more seriously, illegal — there is a perfectly proper argument that the police do not do that enough. I do not make that argument, but others might. It is certainly right that the police should pursue those people, who should be questioned, charged and, where appropriate, prosecuted. However, the argument that we are starting from a blank sheet of paper belies the fact that all kinds of anti-discrimination and anti-racism laws exist that allow us to protect those who might be victims of such prejudice."
Writing for The Spectator, David Green, the founder and chief executive of Civitas, a non-partisan public policy think tank based in London, warned:
"If this definition becomes law, no one would be sure which forms of words could land them in court. It is precisely such uncertainty that makes the difference between a police state and a free society. Historically the term 'rule of law' was used to describe the political system in which everyone knew when the law could be used against them and when they were free to act as each believed best. As John Locke put it, in England there was a 'standing rule to live by, common to every one of that society' which meant 'a liberty to follow my own will in all things, where the rule prescribes not; and not to be subject to the inconstant, uncertain, unknown, arbitrary will of another'....

"Using words with the intention of stirring up racial hatred is not protected [under British law] and — no doubt for this reason — the APPG definition claims that criticizing Islam is a form of racism. But race and religion are very different....

"We have here a clash between two very different ways of viewing a society: broadly individualism and collectivism. Individualism sees the primary aim of the state as being to facilitate development of our personal qualities....

"In a collectivist society the aim is for the rulers to determine how individuals should behave ... those in power lay down a detailed code and threaten punishment for non-compliance. And they do not welcome criticism as a device for mutual learning and holding power to account.

"We have encountered these authoritarian ideas throughout the history of Europe and thought we had advanced beyond them.... The APPG definition is an attempt to recreate the atmosphere of the past....

"There is wide public support for freedom of speech and it is unlikely to be officially ended by an act of parliament, but it can be chipped away bit by bit. Giving official recognition to the APPG definition of Islamophobia will be a giant step towards an arbitrary police state."
Senior British police officials have cautioned that the proposed definition of Islamophobia could cause confusion among police officers and hamper the fight against Islamic terrorism. In a letter to Prime Minister Theresa May that was leaked to The Times, Martin Hewitt, chairman of the National Police Chiefs' Council (NPCC), wrote that the AAPPG's definition risked exacerbating tensions with the Muslim community and could undermine counterterrorist policing powers and tactics:
"We are concerned that the definition is too broad as currently drafted, could cause confusion for officers enforcing it and could be used to challenge legitimate free speech on the historical and theological actions of Islamic states.

"There is also a risk it could also undermine counterterrorism powers, which seek to tackle extremism or prevent terrorism."
England's first Muslim MP, Khalid Mahmood, said that the APPG's definition would lead to increased segregation of Muslim communities:
"I am for equality for all — but I oppose this. We as Muslims should be proud of who we are and try to move away from a victim mentality."
In December 2017, the aid agency Barnabas Fund published a statement in which it recommended using the word "Muslimophobia" when condemning a fear and hatred of Muslim people. It said that the word "Islamophobia" should be used only to mean fear and hatred of the religious ideology Islam. The statement also highlighted that it is a cause of much confusion that "Islamophobia" is commonly used to include fear and hatred of Muslim people as well.
On May 15, more than 40 British academics, writers and public officials signed an open letter to Home Secretary Sajid Javid. The letter called on the government, political parties, local councils and other organizations to reject the APPG's definition of Islamophobia:
"The undersigned unequivocally, unreservedly and emphatically condemn acts of violence against Muslims, and recognize the urgent need to deal with anti-Muslim hatred. However, we are extremely concerned about the uncritical and hasty adoption of the APPG's definition of Islamophobia.

"This vague and expansive definition is being taken on without an adequate scrutiny or proper consideration of its negative consequences for freedom of expression, and academic and journalistic freedom. The definition will also undermine social cohesion — fueling the very bigotry against Muslims which it is designed to prevent.

"We are concerned that allegations of Islamophobia will be, indeed already are being, used to effectively shield Islamic beliefs and even extremists from criticism, and that formalizing this definition will result in it being employed effectively as something of a backdoor blasphemy law.

"Evidently abuse, harmful practices, or the activities of groups and individuals which promote ideas contrary to British values are far more likely to go unreported as a result of fear of being called Islamophobic. This will only increase if the APPG definition is formally adopted in law.

"We are concerned that the definition will be used to shut down legitimate criticism and investigation. While the APPG authors have assured that it does not wish to infringe free speech, the entire content of the report, the definition itself, and early signs of how it would be used, suggest that it certainly would. Civil liberties should not be treated as an afterthought in the effort to tackle anti-Muslim prejudice.

"The conflation of race and religion employed under the confused concept of 'cultural racism' expands the definition beyond anti-Muslim hatred to include 'illegitimate' criticism of the Islamic religion. The concept of Muslimness can effectively be transferred to Muslim practices and beliefs, allowing the report to claim that criticism of Islam is instrumentalized to hurt Muslims.

"No religion should be given special protection against criticism. Like anti-Sikh, anti-Christian, or anti-Hindu hatred, we believe the term anti-Muslim hatred is more appropriate and less likely to infringe on free speech. A proliferation of 'phobias' is not desirable, as already stated by Sikh and Christian organizations who recognize the importance of free discussion about their beliefs."
On May 28, the Muslim Council of Britain, an affiliate of the Muslim Brotherhood, filed a complaint with the Equality and Human Rights Commission (EHRC) over Islamophobia within the Conservative Party. The complaint stated:
"We have taken this step after an unprecedented number of cases have been brought to our attention, suggesting a culture within the Conservative Party where Islamophobia is not only widespread, but institutional. We now request the EHRC to look at all the evidence and investigate this matter with great urgency."
The Assistant Secretary General of the MCB, Miqdaad Versi, admitted that the group's complaint with the EHRC was aimed at pressuring the government to accept its preferred definition of Islamophobia:
"The current Conservative-led government has also decided to reject a definition of Islamophobia as accepted by the MCB and key Muslim stakeholders, which leads us to question, what message do the Conservatives want to send to Muslim communities?

"As the [Conservative Party] leadership race ensues, will any of the candidates prioritize dealing with the sheer scale of Islamophobia that has consumed the Conservative Party?"
The call for an Islamophobia probe came on the same day as the EHRC announced a formal investigation of antisemitism in the Labour Party. The probe will determine whether the party "has unlawfully discriminated against, harassed or victimized people because they are Jewish."
The MCB said the timing of its complaint — submitted on the same day antisemitism probe — was coincidental.
Soeren Kern is a Senior Fellow at the New York-based Gatestone Institute.