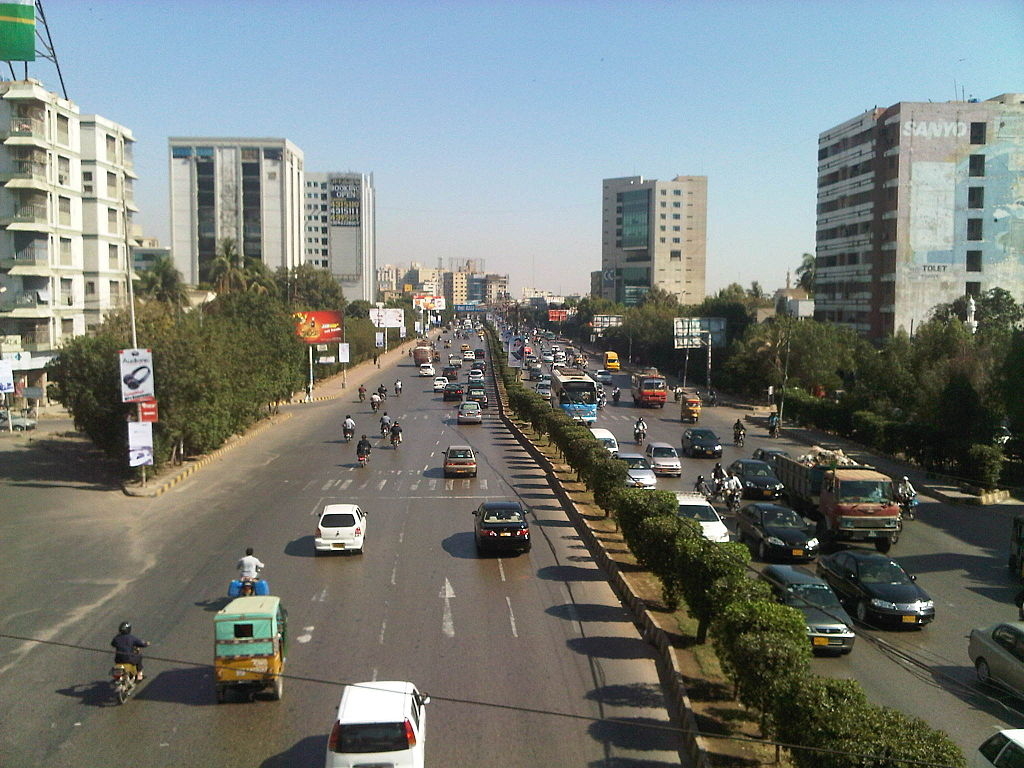 On July 12, Hindus and Sikhs gathered in Pakistan's Sindh province to protest the kidnapping of young girls, their forced conversion to Islam and subsequent marriage to their abductors. Pictured: Karachi, capital of Sindh province, Pakistan. (Image source: Srsly/Wikimedia Commons)
On July 12, Hindus and Sikhs gathered in the Sindh province of Pakistan to protest the kidnapping of young girls, their forced conversion to Islam and subsequent marriage to their abductors. Demonstrators at the rally also railed against the government of Prime Minister Imran Khan for not safeguarding minority rights in the Muslim-majority country.
According a report conducted in 2018 by the University of Birmingham's Commonwealth Initiative for Freedom of Religion or Belief:
"Evidence provided by numerous NGOs, journalists and academics have shown that abductions and forced conversions are one of the most serious problems facing Hindu and Christian women and girls.

"Minorities often do not receive the protection required from state institutions and lack access to justice.

"The Human Rights Commission of Pakistan reports that the police often turn a blind eye to reports of abduction and forced conversions thereby creating impunity for perpetrators. The police will often either refuse to record a First Information Report or falsify the information, thereby denying families the chance to take their case any further. Both the lower and higher courts of Pakistan have failed to follow proper procedures in cases that involve accusations of forced marriage and forced conversions. The judiciary are often subject to fear of reprisal from extremist elements, in other cases the judicial officers' personal beliefs influence them into accepting the claims made that the woman/girl converted on her own free will. There is often no investigation into the circumstances under which the conversion takes place and the age of the girl is often ignored. The girl/woman involved is largely left in the custody of her kidnapper throughout the trial process where she is subject to further threats to force her into denying her abduction and rape and claiming that the conversion was willing.

"Many religious institutions, local mosques and seminaries fail to investigate the nature of the conversion or the age of the bride and mostly simply accept the word of the abductor. Some organisations, like Minhaj-ul-quran, routinely and as a matter of official policy, encourage the practice of converting members of minority communities by offering rewards for successful conversions. They say that it is the equivalent of Haj-e-Akbari, or the greatest religious duty to Muslims."
The 2019 Annual Report of the U.S. Commission on International Religious Freedom concurs, stating:
"Forced conversion of Hindu and Christian young women into Islam and marriage, often through bonded labor, remains a systemic problem... Local police and political leaders, particularly in Punjab and Sindh provinces, are often accused of being complicit in forced marriage and conversion cases by failing to properly investigate them. If such cases are investigated or adjudicated, the young woman is reportedly questioned in front of the man she was forced to marry, which creates pressure on her to deny any coercion."
Maheen Pracha, Publications and Social Media Manager of the Human Rights Commission of Pakistan (HRCP), told Gatestone that some 1,000 cases of forced conversion occurred last year in the province of Sindh alone."
HRCP member Zohra Yusuf told Gatestone that the statistics "are difficult to compile and verify, but the conversion of Christian girls happen mostly in the Punjab province."
"Though believed to be a widespread practice," Yusuf added, "it only receives coverage in the media when families hold a protest or appeal to the courts."
With what Yusuf calls the "increased emphasis on Islamic identity in Pakistan," non-Muslims -- particularly women, a weak sector of Pakistani society anyway -- "are particularly vulnerable to exploitation and abuse."
Yusuf does not believe that the Pakistani government has done enough to improve the security of such women:
"A bill against forced conversions has been pending in the federal parliament. In 2016, the Sindh provincial assembly passed a law against forced conversions, but had to back down after religious parties protested. However, if the law raising the age of marriage to 18 is enacted and enforced properly, it should alleviate the situation somewhat."
Sardar Mushtaq Gill, a Pakistani human rights lawyer and head of the Legal Evangelical Association Development (LEAD-Pakistan), told Gatestone that, according to data collected by his organization:
"In the first six months of 2019, there were more than 60 abductions and conversions of Christian and Hindu girls – particularly easy targets because of their poor socioeconomic status. The most important reason for this is the desire to increase Pakistan's Muslim population, which stems from the Islamic teaching that that a person who converts one non-Muslim to Islam will be granted a place in paradise."
William Stark, South Asia regional manager at the International Christian Concern, also pointed to the role of Islam in the persecution of non-Muslim girls. He told Gatestone:
"The religious reasons behind these abductions are important to note. In Pakistan, there are extremists teaching ideologies that say the kidnapping and forced conversion of religious minorities is actually a good thing. These ideologies teach that the perpetrator can and will receive blessings for what they have done because they have done it to spread Islam.

"Another reason behind this issue is the widespread religious discrimination that exists in Pakistan. In Pakistan, religious minorities are viewed as lower than Muslims because they do not adhere to Islam. Essentially, because Pakistan is an Islamic Republic, non-Muslims are seen as second-class citizens and their faiths are considered less holy. This lessening of the importance of non-Muslims helps create a religious hierarchy that justifies the abuse.

"Based on accounts of the victims I have talked to in Pakistan, the Pakistani government has not done enough to combat the problem. Many have expressed frustration with local authorities and police for siding with the perpetrators of abductions and forced conversions.

"Higher authorities also have done little to nothing to pass legislation specifically criminalizing this issue.

"International pressure on Pakistan is an important element of seeking to end this abuse. Without motivation coming from outside the country, it is very unlikely the Pakistani government will listen to minority leaders and civil society to pass laws combating this issue.

"Advocating for the establishment of a specially trained task force, which includes representatives from religious minorities, to deal with the issue. Perhaps then we would start to see perpetrators investigated and brought to justice."
Uzay Bulut, a Turkish journalist, is a Distinguished Senior Fellow at the Gatestone Institute.