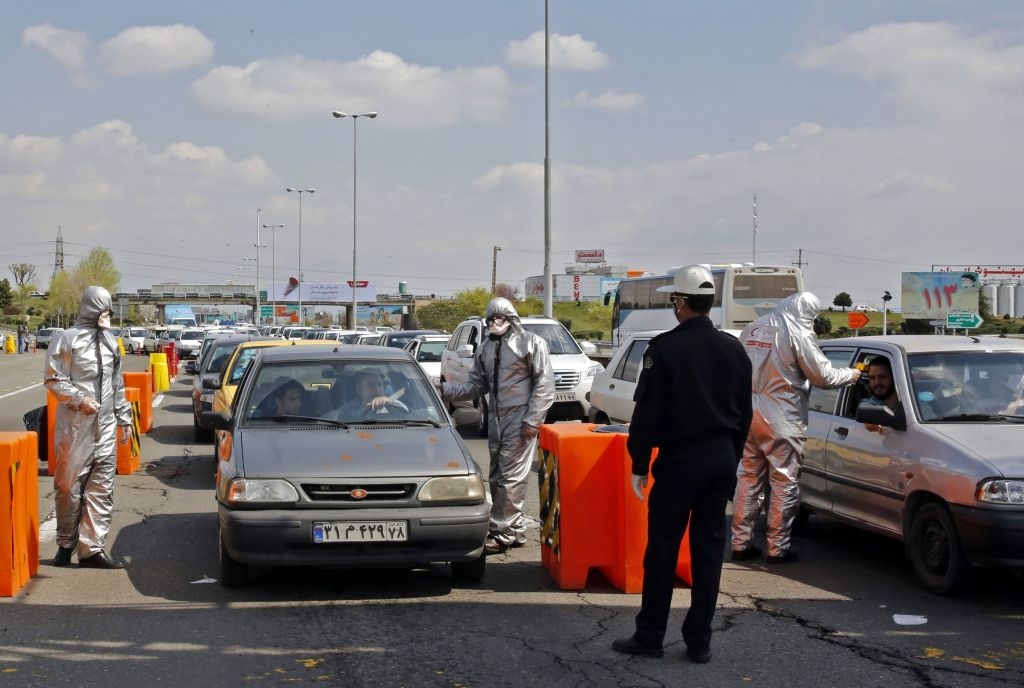 If Iran's mullahs are seeking financial assistance because they actually desire to help their own people, why did they refuse America's offer of medical assistance? Why did they revoke approval for the emergency team sent by Doctors Without Borders? Pictured: Health authorities check motorists for coronavirus symptoms at a police roadblock on the Tehran to Alborz highway in Iran on March 26, 2020. (Photo by STR/AFP via Getty Images)
The Iranian leaders have been pushing the international community to provide it with financial assistance to "combat coronavirus" there. The EU has apparently decided to give the mullahs €20 million (approximately $21 million), all while many EU citizens are languishing in Iran's prisons, often on trumped-up charges. The EU taxpayers' money will more likely be misused by the Iranian regime to advance still further the mullahs' malign agendas.
Iran's leaders are also demanding that the US-based International Monetary Fund (IMF) give them financial assistance. They are asking for a $5 billion emergency loan after the IMF declared that it is making $50 billion available to assist countries with the coronavirus crisis.
Iranian Foreign Minister Mohammed Javad Zarif, on Twitter, ordered the IMF to provide Iran with money:
"IMF's @KGeorgieva has stated that countries affected by #COVID19 will be supported via Rapid Financial Instrument. Our Central Bank requested access to this facility immediately. IMF/IMF Board should adhere to Fund's mandate, stand on right side of history & act responsibly."
France, Germany and Britain have also pledged $5.6 million in financial aid to the Iranian regime while Tehran is refusing to allow European citizens under detention there, often on trumped up charges, to return to their countries. These hostages include: Nazanin Zaghari-Ratcliffe, British citizen; Ahmadreza Djalali, Swedish citizen; Morad Tahbaz, British businessman and wildlife conservationist; Kamran Ghaderi, the Austrian CEO of an IT management and consulting company Avanoc; Aras Amiri, the British Council employee; Fariba Adelkhah, the French anthropologist and researcher at Sciences Po university in Paris; Anousheh Ashouri, a British citizen, and Kameel Ahmady, a British anthropologist.
If the mullahs are seeking financial assistance because they actually desire to help their own people, why did they refuse America's offer of medical assistance? Why did their regime revoke its approval for the emergency team sent by Doctors Without Borders (Médecins sans frontières, MSF), along with the materials needed to build a 50-bed inflatable treatment unit?
In a statement last week, MSF wrote:
"[MSF] is shocked by the statement made today by officials of the Iranian Ministry of Health (MoH) revoking its previous approval for MSF's intervention to manage severe COVID-19 cases in Isfahan. MoH officials declared today that the country does not need additional treatment capacity for the management of severe cases."
The international community needs to refrain from handing the Iranian regime any direct financial aid. The four-decade history of the ruling mullahs has shown that any extra revenues obtained by the leadership have not benefited the ordinary people in Iran. The Joint Comprehensive Plan of Action (JCPOA), the "Iran nuclear deal" pushed by the Obama administration, was a prime example. When the deal was signed -- by Western countries only, never by Iran -- in 2015, Iranian President Hassan Rouhani promised that it would be used to help the Iranian population. When former US President Barack Obama lifted sanctions against the regime, the mullahs rejoined the global financial system and their oil and gas industries had a fresh start. Tehran subsequently increased its oil exports from 1 million barrels per day to about 4 million. Asian imports from Iran jumped by more than 90%, according to Iran's state news outlets. Sales to Turkey and other European nations also rose quickly and Iran soon became the third-largest producer in OPEC, as well as attracting foreign investments.
With all these increased revenues, however, the Iranian people suffered more: the beneficiaries of those financial gains turned out to be mainly the Islamic Revolutionary Guard Corps (IRGC) and the Office of the Supreme Leader. Unemployment and inflation remained at record highs. The increasing corruption and economic mismanagement, in fact, exacerbated the economic problems of ordinary citizens. In addition, as the hard-liners gained more financial power, restrictions on freedom increased.
The extra revenue simply emboldened and empowered the IRGC to flex its muscles in other countries in the region, including in Syria, Iraq, Lebanon and Yemen.
The international community therefore must not directly give the Iranian regime financial aid: it will most likely be funneled into supporting the IRGC and its terror and militia groups across the region.
Instead of handing billions of dollars to the ruling mullahs, financial aid can alternatively be towards trustworthy international medical organizations to combat coronavirus directly on the ground, both in Iran and other countries affected.
Dr. Majid Rafizadeh is a business strategist and advisor, Harvard-educated scholar, political scientist, board member of Harvard International Review, and president of the International American Council on the Middle East. He has authored several books on Islam and US foreign policy. He can be reached at Dr.Rafizadeh@Post.Harvard.Edu