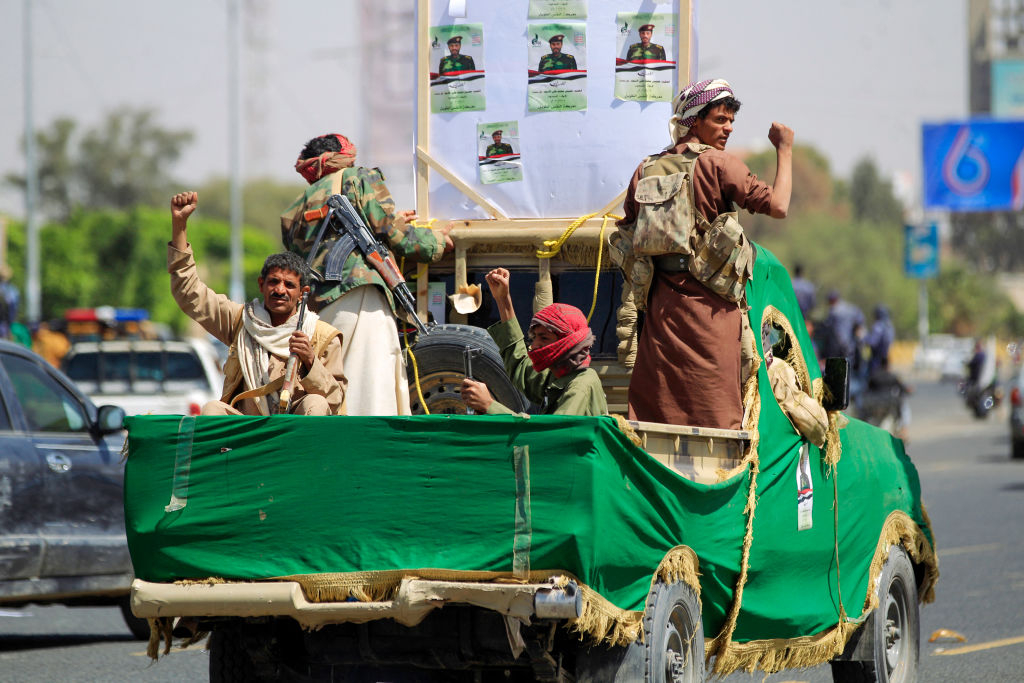 By removing Yemen's Houthis from the list of foreign terrorist organizations and cutting off US support to confront the militia group, the Biden Administration has emboldened and empowered the Houthis and given them a free pass. Pictured: Houthi gunmen take part in a funeral for fellow militiamen killed in battle with Saudi-backed government troops in the Marib region, on March 23, 2021 in the Yemeni capital Sanaa. (Photo by Mohammed Huwais/AFP via Getty Images)
The Biden Administration has completely reversed the former administration's firm policy on the Houthis in the Yemeni civil war.
Former Secretary of State Mike Pompeo designated Yemen's Iran-backed Houthi rebels, also known as Ansarallah, as a "foreign terrorist organization" in January 2021. The move was intended to hold the terror group accountable, as Pompeo clarified:
"These designations will provide additional tools to confront terrorist activity and terrorism by Ansarallah, a deadly Iran-backed militia group in the Gulf region. The designations are intended to hold Ansarallah accountable for its terrorist acts, including cross-border attacks threatening civilian populations, infrastructure, and commercial shipping."
But after less than a week in office, the Biden administration began reviewing the designation and revoked the designation of Yemen's Houthis as a terrorist group.
Why would the Biden Administration remove a militia group, which commits crimes against humanity, recruits, injures and kills children, from the terrorist designation? According to Human Rights Watch's World Report 2020:
"Since September 2014, all parties to the conflict have used child soldiers under 18, including some under the age of 15, according to a 2019 UN Group of Eminent International and Regional Experts on Yemen report in 2019. According to the secretary general, out of 3,034 children recruited throughout the war in Yemen, 1,940—64 percent—were recruited by the Houthis."
The Houthis are also using landmines that control and kill civilians in Yemen. According to Human Rights Watch:
"Houthi-planted landmines across Yemen continue to harm civilians and their livelihoods. Houthi forces have been using antipersonnel mines, improvised explosive devices (IED), and anti-vehicle mines along the western coast of Yemen, resulting in hundreds of civilian deaths and injuries. The landmines have also impeded aid workers' abilities to reach vulnerable communities. Landmine use has been documented in six governorates in Yemen since 2015. Since January 2018, at least 140 civilians, including 19 children, have been killed by landmines in just the Hodeidah and Taizz governorates."
The Houthi militia group also routinely resorts to various methods of torture. Human Rights Watch points out:
"Former detainees described Houthi officers beating them with iron rods and rifles and being hung from walls with their arms shackled behind them. Mothers, sisters, and daughters of abducted men have demonstrated in front of prisons across major Yemeni cities, searching for their kidnapped sons, fathers, brothers, and other male relatives, organized under a group named 'Mothers of Abductees Association.' The Association reported that there are 3,478 disappearance cases, at least 128 of those kidnapped have been killed."
By removing the Houthis from the terrorist list and cutting off US support to confront the militia group, the Biden Administration has emboldened and empowered the Houthis and given them a free pass.
That is most likely why the Houthi terror group has ratcheted up its missile attacks. More than 40 drones and missiles were reportedly launched by the Houthis at Saudi Arabia in the month of February alone. Even Western officials have acknowledged the escalation. A senior U.S. Defense official told NBC News on a condition of anonymity:
"We're certainly aware of a troubling increase in Houthi cross-border attacks from a variety of systems, including cruise missiles, ballistic missiles and UAVs (unmanned aerial vehicles)".
France, Germany, Italy and Britain also condemned the Houthi offensive and characterized it as a "major escalation of attacks the Houthis have conducted and claimed against Saudi Arabia."
The sophisticated drones and missiles that the Houthi militia group is using most likely came from the Iranian regime, which has recognized the terror group as the official government of Yemen. Based on a U.N. report released in January 2021, there is strong evidence showing that the Islamic Republic of Iran is a provider of weapons to the Houthis. The U.N. panel of experts report said:
"An increasing body of evidence suggests that individuals or entities in the Islamic Republic of Iran supply significant volumes of weapons and components to the Houthis".
Iran mostly relies on the sea route to smuggle weapons to the Houthis, as several of Iran's weapons shipments, which were heading to war-torn Yemen, had been previously seized.
In spite of the mounting evidence of crimes committed by the Houthis, the Biden Administration decided to hand an undeserved political victory to Iran's regime. Let us hope that the Biden Administration reconsiders, and stops rewarding Iran for its malign behavior as well as jeopardizing the strengthening peace and stability that has finally been taking off throughout the Middle East.
Dr. Majid Rafizadeh is a business strategist and advisor, Harvard-educated scholar, political scientist, board member of Harvard International Review, and president of the International American Council on the Middle East. He has authored several books on Islam and US foreign policy. He can be reached at Dr.Rafizadeh@Post.Harvard.Edu