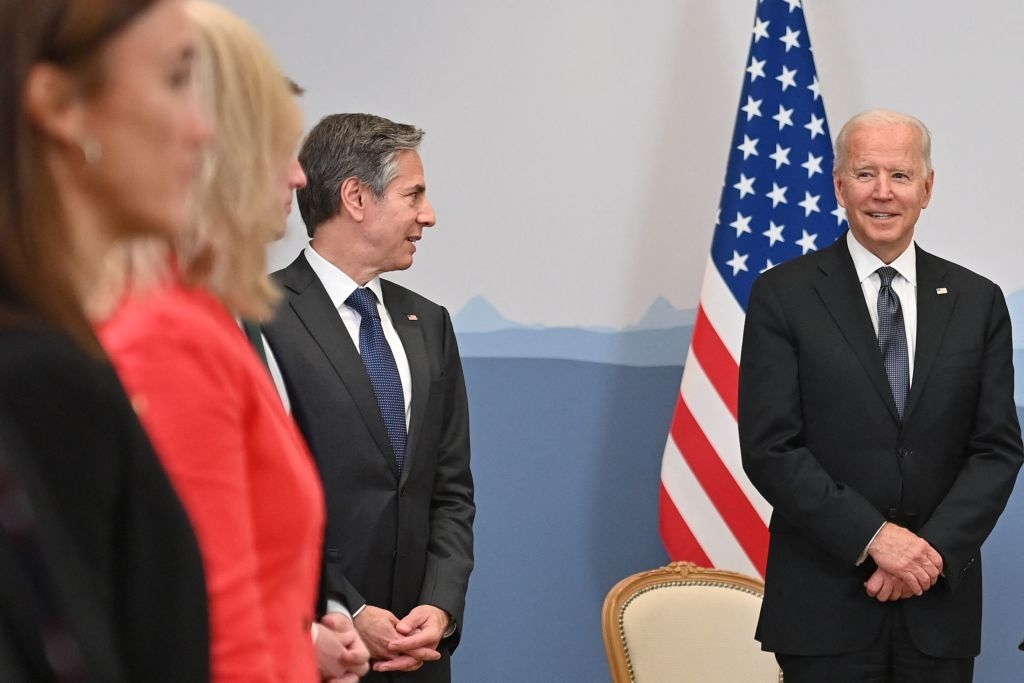 Since the Biden administration assumed office, it has been increasingly appeasing the Iranian regime, which in return, is further emboldening and empowering the mullahs. Pictured US President Joe Biden (right) and US Secretary of State Antony Blinken (second from right) in Geneva on June 15, 2021. (Photo by Fabrice Coffrini/Pool/AFP via Getty Images)
Since the Biden administration assumed office, it has been increasingly appeasing the Iranian regime, which in return, is further emboldening and empowering the mullahs.
The first appeasement came when the administration changed the previous administration's policy of maximum pressure to a policy of appeasement toward the Iran's proxy militia group, the Houthis. Even as evidence -- including a report by the United Nations -- showed that the Iranian regime is delivering sophisticated weapons to the Houthi militia group in Yemen, the Biden administration suspended some of the sanctions against terrorism that the previous administration imposed on the Houthis. The previous US administration had designated Iran's proxies, the Houthis, a terrorist group.
The Houthis have been committing crimes against humanity, including taking over Yemen's capital, Sana'a; arbitrarily detaining and forcibly disappearing people; recruiting children, seizing hostages; dispatching "numerous indiscriminate and disproportionate airstrikes, killing thousands of civilians and hitting civilian structures in violation of the laws of war," according to Human Rights Watch; as well as using banned antipersonnel landmines, and firing "artillery indiscriminately into cities such as Taizz, killing and wounding civilians," and "launching indiscriminate ballistic missiles into Saudi Arabia." The Houthis have also been inflicting extreme forms of torture such as beating detainees with metal bars and rifles, and hanging them from walls with their arms tied behind them.
According to Human Rights Watch's World Report 2020:
"Since September 2014, all parties to the conflict have used child soldiers under 18, including some under the age of 15, according to a 2019 UN Group of Eminent International and Regional Experts on Yemen report in 2019. According to the secretary general, out of 3,034 children recruited throughout the war in Yemen, 1,940—64 percent—were recruited by the Houthis."
The Houthis are also using landmines that kill civilians in Yemen, according to Human Rights Watch. In addition, more than 40 drones and missiles were reportedly launched by the Houthis at Saudi Arabia in the month of February alone.
Secretary of State Antony Blinken nevertheless stated at his inauguration hearing that he had "deep concern about the designation" of the Houthis as a terrorist organization, in that "at least on its surface it seems to achieve nothing particularly practical in advancing the efforts against the Houthis and to bring them back to the negotiating table...." One wonders if the same thinking would apply to Al Qaeda or Islamic State.
On February 12, 2021, in yet a further appeasement of Iran, the Biden administration revoked the designation of Yemen's Houthis as a terrorist group altogether. The Biden Administration handed Iran's regime an undeserved political victory.
Then, right before heading to Vienna to negotiate rejoining the disastrous 2015 nuclear deal, which, incidentally, Iran never signed, US State Department spokesman Ned Price told reporters that America was prepared to lift sanctions against Iran:
"We are prepared to take the steps necessary to return to compliance with the JCPOA, including by lifting sanctions that are inconsistent with the JCPOA. I am not in a position here to give you chapter and verse on what those might be".
Iran's mullahs, nevertheless, did not actually have to wait until the revival of the nuclear deal; last week, on June 10, the Biden administration lifted sanctions on three former Iranian government officials and two Iranian companies involved in the country's oil industry.
"Biden cravenly lifted sanctions on Iran," former US President Donald Trump commented.
"Now, they're actually asking for money. Here we go again. Remember? They got $150 billion plus $1.8 billion in cash. Now, they're actually asking for money. They never asked me for money. It's unbelievable. It's so sad to see."
Indeed, Iran's leaders are now emboldened and most likely assume that they can extort even more concessions from the Biden administration because they successfully did so in the past -- when Biden was Vice President during the Obama administration. As Iran's Foreign Minister Javad Zarif told a forum organized by New York's Council on Foreign Relations last fall, he wants a new deal. "A sign of good faith is not to try to renegotiate what has already been negotiated," he said, adding that the US must "compensate us for our losses" before any new talks.
Iran's top judicial body had already demanded a year earlier that the US pay $130 billion in "damages."
In yet an additional form of appeasement, the Biden administration has been strenuously ignoring the Iranian regime's aggression and destabilizing behavior. Iran's regime not only threatened to destroy US warships in the Persian Gulf last April; now, it is sending a destroyer, the Sahand, and a support vessel -- the intelligence-gathering Makran -- to Venezuela. The Makran set sail on the mission "with seven high-speed missile-attack craft strapped to its deck," according to a report published by the U.S. Naval Institute. The report continued:
"If the boats are delivered, they may form the core of an asymmetrical warfare force within Venezuela's armed forces. This could be focused on disrupting shipping as a means of countering superior naval forces. Shipping routes to and from the Panama Canal are near the Venezuelan coast."
Tehran has not only been using Venezuela for military cooperation, but also, it seems, to advance its nuclear program. Venezuela has been accused of covertly assisting Iran with the production of raw material for nuclear weapons as well as ballistic missiles. The ruling mullahs, in fact, appear have been using Venezuela as part of a larger agenda for increasing Iran's influence and the presence of its proxies in Latin and North America.
The Biden administration should be seriously concerned about Iran-backed Hezbollah's increasing presence in Venezuela. As Ambassador Nathan Sales, former Coordinator for Counterterrorism at the State Department, said:
"We're concerned that Maduro has extended safe harbor to a number of terrorist groups, the ELN [National Liberation Army] in particular, but also FARC [the Revolutionary Armed Forces of Colombia] dissidents who rejected the peace accord, as well as supporters and sympathizers of Hezbollah."
Instead of confronting Iran's predatory regime, the Biden administration has been forging ahead with the failed 2015 "nuclear deal" -- which permits Iran to become a legitimate, full-blown nuclear power in just a few years. The Biden administration is also turning a blind eye to the regime's alarming and increasing human rights violations.
The Biden administration's policy towards the Iranian regime can fairly be characterized, then, as all carrots, no stick.
Dr. Majid Rafizadeh is a business strategist and advisor, Harvard-educated scholar, political scientist, board member of Harvard International Review, and president of the International American Council on the Middle East. He has authored several books on Islam and US foreign policy. He can be reached at Dr.Rafizadeh@Post.Harvard.Edu