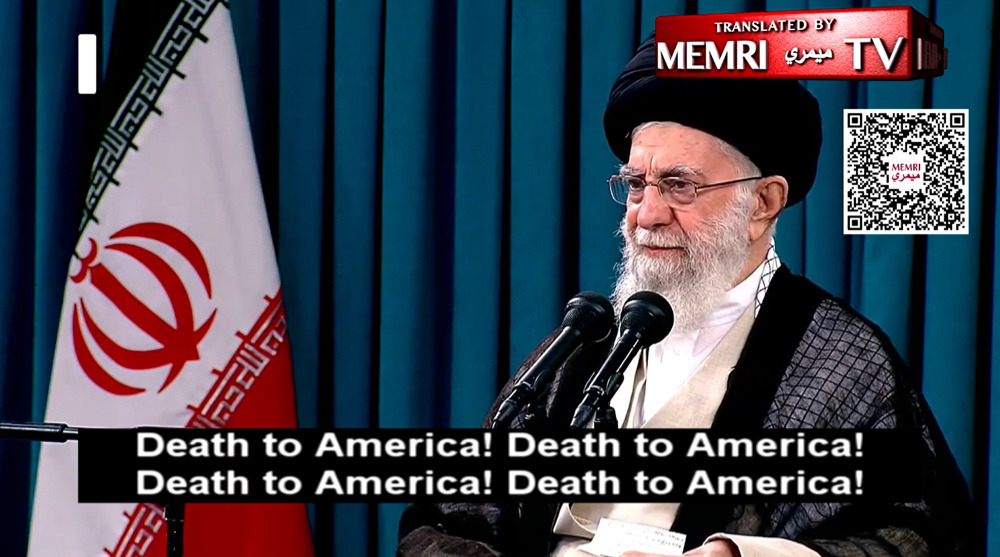 With the Biden administration's deference towards the ruling mullahs of Iran, its regime — called the world's "top state sponsor of terrorism" — is so far still the winner of Hamas's barbaric massacre on October 7. The invaders from Gaza killed at least 1,200 people in Israel, including at least 31 Americans, wounded 4, 500 people, and abducted more than 222 people who were taken back to Gaza as hostages. Thirteen US citizens are still unaccounted for.
Iran has targeted US forces in Syria and Iraq 83 times since January 2021, when President Joe Biden took office.
When the US finally launched retaliatory strikes on Syria on October 26, Iran itself was carefully avoided.
One can only hope that a strong enough message was sent to the Iranian regime and its proxies -- Hamas, Palestinian Islamic Jihad, Hizballah, the Houthis in Yemen -- many of whose leaders are tucked safely away in five-star hotels in Qatar.
It is shameful that the Biden administration continues to deny that Iran had any role in Hamas's attempted genocide, while the leaders of Hamas and Hezbollah have themselves confessed that their paymaster, Iran's regime, helped plan the attack.
The Washington Post reported that, according to U.S. intelligence sources, Iran "provided military training and logistical help as well as tens of millions of dollars for weapons". '
The Wall Street Journal cited "senior members of Hamas and Hezbollah," admitting that that Iranian government leaders helped plan the brutal and barbaric assault.
Iran provides roughly $100 million a year to Palestinian terrorist organizations such as Hamas and Palestinian Islamic Jihad, and $700 million a year to Hezbollah. As US Senator Lindsey Graham (R-SC) correctly said:
"The idea that Iran read about this operation in the paper, or on television is laughable. 93% of Hezbollah and Hamas' money comes from Iran. They're the source of the problem. They're the great evil. So, if Hezbollah escalates against Israel, it will be because Iran told them to. Then Iran, you're in the crosshairs of the United States and Israel."
Graham also told CNN host Abby Phillip:
"If there's an escalation, Abby, if there's people's throats being cut on television as Israel goes into Gaza, they're threatening to kill the hostages, if Hezbollah is unleashed on Israel in the north, it will be because Iran is supporting that. If you don't get the connection between Iran and this terrorist activity by Hamas and Hezbollah, you're missing a lot".
As Tehran's major revenues come from exporting oil, US Senator Lindsay Graham has suggested targeting Iran's oil refineries. "What I would do," he told CNN host Abby Phillip, "is I would bomb Iran's oil infrastructure. The money financing terrorism comes from Iran. It's time for this terrorist state to pay a price for financing and supporting all this chaos."
Removing even just one oil refinery might also "send a message" and persuade Iran's ruling mullahs to rethink their plans. The US should also enforce sanctions against Iran instead of looking the other way.
The Iranian regime, according to reports, possesses the world's second-largest natural gas reserves and the fourth-largest proven crude oil reserves. The sale of oil accounts for nearly 60% of the Iranian government's total revenues and more than 80% of its export revenues.
The Trump administration, when it killed the Islamic Revolutionary Guard Corps' Qods Force Commander Qasem Soleimani, had warned Iran that 52 additional targets had been selected if Iran were to avenge Soleimani's death -- and that was the end of Iran acting up.
The Biden administration also needs to cut the flow of funds to the Iranian regime by enforcing sanctions instead of showering the regime with billions of dollars. Presumably intended as bribes in exchange for not starting wars, those billions are immediately used to finance terrorism and start wars. US taxpayers therefore have been paying for the murder of at least 31 Americans at the hands of Hamas on October 7; the abduction of "20 or more Americans" who are missing and held hostage; the bounties on the heads of former US officials, and the finishing touches the ruling mullahs are putting on their nuclear weapons program. The Biden administration, it appears, has been funding both sides of two wars: Hamas's invasion of Israel, and Russia's invasion of Ukraine.
Worse, when the Iranian regime says, "Death to Israel" and "Death to America," they mean it. The US, by trying to bribe Iran not to carry out at least the American part of that threat, has, in reality, been financing Iran's ability to do exactly that. Instead of confronting the avowed murderers of Americans, the US is bankrolling them.
When the Trump administration strongly sanctioned Iran and adopted a policy of "maximum pressure," the sanctions did, in fact, impose significant pressure on Iran, and the country's rulers had to cut funding to their allies, militias and terror groups.
The enforcement of sanctions, for instance, caused Iran to cut funds to its proxies in Syria. They were not getting their salaries and benefits, a loss that made it extremely difficult for them to continue fighting and destabilize the region. A member with an Iranian-backed militia in Syria told the New York Times in March 2019 that "The golden days are gone and will never return... Iran doesn't have enough money to give us."
In 2019, feeling the pressure of sanctions on Iran, Hassan Nasrallah, the leader of Iran's Lebanese terror proxy, Hezbollah, called on his group's fundraising arm "to provide the opportunity for jihad with money and also to help with this ongoing battle".
Hamas was forced to introduce "austerity plans". Then Iranian President Hassan Rouhani stated that the Islamic Republic was encountering the worst economic crisis since its establishment in 1979.
The Biden administration urgently needs to abandon its policy of appeasing Iran and adopting a policy of massive deterrence.
The US needs to resume, even step up, enforcing sanctions to cut off the flow of funds to the Iranian regime. If not, the next war, when Iran has nuclear weapons, will make this one look like one of those five-star hotels in Qatar.
Dr. Majid Rafizadeh is a business strategist and advisor, Harvard-educated scholar, political scientist, board member of Harvard International Review, and president of the International American Council on the Middle East. He has authored several books on Islam and US Foreign Policy. He can be reached at Dr.Rafizadeh@Post.Harvard.Edu