During the Islamic State's June invasion and consolidation of Mosul, Iraq -- where Christians have been present since the first century -- countless atrocities against them were committed. Accordingly, the region is now reportedly empty of Christian presence.
The Islamic State, among other acts, reinstituted the collection of jizya, the "tribute" conquered Christians (and Jews) were historically required to pay in order not to be killed in accordance with the Koran (9:29).
In one instance, three Islamic State members burst into the home of a Christian family, demanding the jizya-money. When the father of the house pleaded that he did not have the money, the intruders raped his wife and daughter in front of him. The man was reportedly so traumatized that he committed suicide. Four other Christian women were killed for not wearing the Islamic veil.
Soon after taking over Mosul, the Islamic State also announced that it would destroy all Christian places of worship. Several churches were burned, including the Armenian church near the Al Salam hospital, and the Church of the Holy Spirit, after first being looted and desecrated. A large statue of the Virgin Mary disappeared.
Among the many Christians missing are two nuns from the Daughters of Mary Order, who managed an orphanage for girls in Mosul. It is believed they have been kidnapped.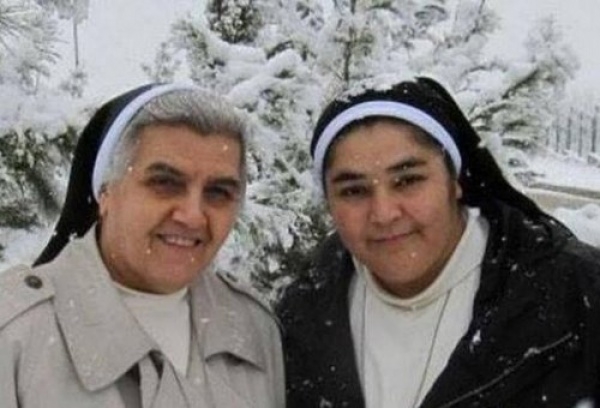 Sister Utoor Joseph (left) and Sister Miskintah, are nuns who disappeared on June 28 in Mosul, Iraq, and are believed to have been kidnapped by Islamists.
The rest of June's roundup of Muslim persecution of Christians around the world includes (but is not limited to) the following accounts, listed by theme and country alphabetical order, not necessarily according to severity.
Church Attacks and Slaughters
Indonesia: Another Catholic community was attacked in the world's largest Muslim-population country. The Parish of the Sacred Heart in Pugeran, in the South of Yogyakarta, was targeted by three different groups of unknown assailants riding motorcycles during the first morning Mass. The incident coincided with the start of Ramadan, Islam's holy month, which often sees a rise in hostility for religious minorities. The attackers, who were dressed in black and covered their faces with masks, broke through the parish gates while shouting, "Allah is Greater!," Islam's historic war-cry. They attacked some Christian objects and posters placed there by members of the local Catholic community. Weeks earlier, on May 30, "Islamic extremists attacked a group of Catholics gathered in prayer, beating up the community leader; a week later, Pastor Niko, leader of the Protestant Christian community, was targeted by extremists 'accused' of having set up an 'illegal' house of prayer without permission," according to Asia News. It continued, "Indonesia is the most populous Muslim nation in the world. Increasingly however, it has become the scene of attacks or episodes of intolerance against minorities, whether they are Christians, Ahmadi Muslims or belong to other faiths."
Kenya: Approximately 50 militants from Somalia's Islamic Al Shabaab ("the youth") network attacked two hotels, a police station and other buildings in Mpeketoni, a predominantly Christian town on Kenya's coast, during the night of Sunday June 15. They chanted "Allahu Akbar!" ("Allah is Greater!") and killed whoever could not recite verses from the Koran. The militants reportedly also went door-to-door asking residents their religion and killing them if they said, "Christian." More than 57 people were killed, including six children of church pastors.
Nigeria: Suspected Boko Haram jihadis killed nine Christians during a June 1 Sunday church service, hours before bombing a Christian area in neighboring Adamawa state. The blast resulted in nearly 50 deaths. In addition, at least 10 gunmen attacked the Church of the Brethren in Nigeria during worship in Attagara village. The jihadis killed nine Christian members who were volunteering as security for the rest of the congregation during service. Another Christian church in Central State Plateau was set ablaze by armed men who also killed at least eight Christian worshippers. According to the Italian news agency, AGI, "The police made their statement, saying that for now they have not assigned the blame for the action, even though the MO and the aims of the attack lead to presuming it was the work by the Boko Haram Islamic Fundamentalists, who have killed thousands of people since 2009." Speaking about the June 1 church attack, one area Christian leader said that the attackers were a small part of 200 assailants who have invaded Attagara and other predominantly Christian villages around Gwoza the past two weeks, destroying homes and churches: "Our church in Attagara was attacked also on Sunday," said Dr. Rebecca Dali. "There have been 24-hour-a-day attacks on Christian communities of Attagara, Hawul, and Gwoshe around the Gwoza mountains…. The Boko Haram Islamists have destroyed 36 churches in Gwoza area, including that of Attagara attacked on Sunday. We now have only two churches that have not been affected."
Sudan: Authorities in North Khartoum demolished another church building, that of the Sudanese Church of Christ. Bulldozers came and demolished the church just one day after authorities gave verbal notice of the decision during the congregation's Sunday worship service the previous day. Congregation members stood by watching their church razed to the ground. About 70 security personnel armed with guns and tear gas stood by, threatening anyone who dared to interfere or protest. "They wanted to beat us or throw tear gas on us," said one congregation member. Authorities gave no clear reason why the church, which has stood since 1983 and which has all the legal paperwork, was being destroyed. According to Rev. Kwa Shamal, the church's pastor who questioned the commissioner, "They did not want us to ask many questions on why they were demolishing our church." Because the government refuses to grant the church any compensation, "We will have to pray in a makeshift tent next Sunday" along the road, said the pastor.
Attacks on Christian Freedom: Apostasy and Blasphemy
Afghanistan: The New York Times told the story of "Josef," a Muslim convert to Christianity who is on the run from Afghani family members trying to slay him. The apostate from Islam lives in a 10-by-10 dilapidated room, his few worldly possessions a tattered Bible and wooden cross with the Sermon on the Mount written on it: "Josef's brother-in-law Ibrahim arrived in Kabul recently, leaving behind his family and business in Pakistan, to hunt down the apostate and kill him. When reached by telephone, Ibrahim, who uses only one name, offered a reporter for The New York Times $20,000 to tell him where Josef was hiding. 'If I find him, once we are done with him, I will kill his son as well, because his son is a bastard,' Ibrahim said, referring to Josef's 3-year-old child. 'He is not from a Muslim father.'" Earlier, when Ibrahim first discovered Josef's conversion to Christianity, he and his family attacked the convert, tied his hands and feet and were going to slaughter him until the father intervened, calling for time to investigate matters. Josef used the time to escape. Having had a long spiritual journey and closely studying all religions, the Christian convert said, "Even if I get killed, I won't convert back."
Egypt: Islamic vindictiveness against Coptic Christians accused of "blasphemy" and "apostasy" was in the air all throughout the month of June in President Sisi's not so "new" Egypt. First, Kerolos Shouky Attallah, a young Coptic Christian man accused of blaspheming Islam for simply "liking" an Arabic-language Facebook page administered by an anonymous group of Christian converts, was sentenced to six years in prison. According to Attallah's attorney, the Copt did not make any comments on the site, share any of the postings or upload anything to it, and removed his name from the page once he realized that it might offend Muslims. In the hours preceding the sentencing, a rioting mob burned down several Christian-owned shops in the area near Luxor. Safwat Samaan, Chairman of Nation Without Borders, a human rights and development group headquartered in Luxor, said, "The sentence today was a shock not just to Kerolos but to everyone who uses Facebook in Egypt. Any person who uses Facebook in Egypt and presses 'Like' on any page … can be put into prison for six years."
Also, An Egyptian appeals court upheld a blasphemy conviction against Dimyana Abdel-Nour, a Coptic Christian teacher, and sentenced her to six months. The ruling overturned an earlier sentencing, which only imposed a fine. The appellate court in Luxor stated that the elementary school teacher had insulted Islam in front of her pupils. Last year, three 10-year-old Muslim children complained to their parents that the Coptic teacher showed disgust for Islam when discussing it in class.
Bishoy Armia Boulous—more notoriously known as Mohammed Hegazy, the first Egyptian ever to try legally to change his religious identity from Muslim to Christian on his official ID—was sentenced to five years in prison. (Years earlier, when he first tried to change his ID, he was also imprisoned and tortured.) The judge cited "disturbing the peace by broadcasting false information" as the reason for sentencing the apostate, who in the weeks before, was documenting political unrest in Egypt brought on by innumerable Muslim extremist attacks on Christians. The exact section of the nation's criminal code that Boulous allegedly violated was not released. According to Boulous's lawyer, the real reason he was charged and sentenced is because he abandoned Islam and became a Christian: "The officer who arrested him, when he found that he hadn't committed a crime, made up things to keep him in prison so he could be sentenced," said the lawyer.
Uganda: After Muslim family members tried, but failed, to poison a relative who converted to Christianity, he was attacked again by Muslims who killed his young daughter. On June 16, four men forced their way into the home of Hassan Muwanguzi—a former sheikh who converted to Christianity in 2003. One of the intruders was shouting, "Today we shall kill you—you have been a trouble-maker and are not respecting our prophet's religion." Thinking they would not hurt Grace Baruka, his daughter, he fled into a room, but then heard the 12-year-old girl's cries as the Muslim intruders were strangling her. When he came out of the room they seized him: "They hit me with a blunt object, and I fell down. I just woke up and saw neighbors surrounding me while wailing, saying that my daughter is in critical condition." Neighbors took Grace to a clinic but she was declared dead upon arrival. Muwanguzi has suffered greatly for embracing Christianity: first he lost his wife and job as a schoolteacher after his conversion; then an aunt tried to poison him by putting insecticide in his tea; and now his 12-year-old daughter has been killed. Lamented the former Muslim, in tears, to Morning Star News: "I am regretting why I survived the poisoning. God could have allowed me to die. My daughter has died, and I am now mourning for her death as well [as] have pain all over my body."
Dhimmitude
Lebanon: The Abra Municipality, a predominantly Christian suburb in the coastal city of Sidon, released a memo urging all citizens—the majority of whom are Christian—to respect observant Muslims during Ramadan and abstain from eating in public. In his memo, Mayor Walid Nicolas al-Mchantaf stressed the importance of showing consideration during the holy month and refraining from dining at restaurants and cafes during the fasting period, which begins at sunrise and ends at sunset. A large Muslim community exists in the town and has been in the spotlight since last year's violent clashes between Islamic gunmen and the Lebanese Army.
Germany: Muslims were granted their own section at the cemetery in the Hessian town of Seligenstadt. And they have been allowed to conduct Islamic ceremonies, in which the corpse is wrapped in cloths and buried facing Mecca. Now these same Islamic communities, including Ahmadiyyas, are demanding that Christian symbols and crosses in the cemetery be removed or covered up during Islamic funerals.
United Kingdom: The National Health Services suspended a Christian health worker on full pay for nine months for praying with a Muslim colleague. Victoria Wasteney, a senior occupational therapist, was also accused of "bullying" the colleague after giving her a book about a Muslim woman who converts to Christianity. According to Wasteney, her relationship with the Muslim woman was friendly; the Muslim female often came to her for support; the Christian health worker did not think that she was behaving coercively or disrespectfully. Andrea Williams, the chief executive of the Christian Legal Centre, said the case demonstrated that "the NHS is increasingly dominated by a suffocating liberal agenda that chooses to bend over backwards to accommodate certain beliefs but punishes the Christian."
About this Series
While not all, or even most, Muslims are involved, persecution of Christians is expanding. "Muslim Persecution of Christians" was developed to collate some—by no means all—of the instances of persecution that surface each month.
It documents what the mainstream media often fails to report.
It posits that such persecution is not random but systematic, and takes place in all languages ethnicities and locations.
Raymond Ibrahim is author of Crucified Again: Exposing Islam's New War in Christians (published by Regnery in cooperation with Gatestone Institute, April 2013).
Previous reports