In 1975, the Swedish parliament unanimously decided to change the former homogeneous Sweden into a multicultural country. Forty years later the dramatic consequences of this experiment emerge: violent crime has increased by 300%.
If one looks at the number of rapes, however, the increase is even worse. In 1975, 421 rapes were reported to the police; in 2014, it was 6,620. That is an increase of 1,472%.
Sweden is now number two on the global list of rape countries. According to a survey from 2010, Sweden, with 53.2 rapes per 100,000 inhabitants, is surpassed only by tiny Lesotho in Southern Africa, with 91.6 rapes per 100,000 inhabitants.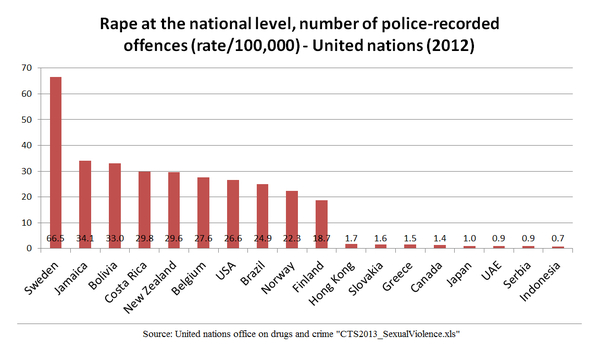 Rape rate per 100,000 population, comparison by country (selected top and bottom countries), 2012 statistics taken from the United Nations Office on Drugs and Crime. (Image source: Wikimedia Commons)
According to figures published by The Swedish National Council for Crime Prevention (Brottsförebyggande rådet; known as Brå) -- an agency under the Ministry of Justice -- 29,000 Swedish women, during 2011, reported that they had been raped (which seems to indicate that less than 25% of the rapes are reported to the police).
Strange explanations
Rather than doing something about the problem of violence and rape, Swedish politicians, public authorities and media do their best to explain away the facts. Here are some of their explanations:
Swedes have become more prone to report crime.
The law has been changed so that more sexual offences are now classed as rape.
Swedish men cannot handle increased equality between the sexes and react with violence against women (perhaps the most fanciful excuse).
A long-held feminist myth is that the most dangerous place for a woman is her own home -- that most rapes are committed by someone she knows. This claim was refuted by Brå's report:
"In 58% of cases, the perpetrator was entirely unknown by the victim. In 29% of cases the perpetrator was an acquaintance, and in 13% of cases the perpetrator was a person close to the victim."
Brå reports that there are no major differences between women of Swedish and foreign background when it comes to the risk of being raped. Significantly, the report does not touch on the background of the rapists.
Without parallel
Back in 1975, the year when politicians decided that Sweden was to become multicultural, the Swedish population stood at 8,208,442. By 2014 it had grown to 9,743,087 -- an increase of 18.7%. This growth is entirely due to immigration, as Swedish women on average give birth to 1.92 children compared to the 2.24 average of immigrant women. One should, however, keep in mind that in the statistics, second-generation immigrants are counted as Swedes.
Sweden's recent population growth is without parallel. Never before in the country's history has the number of inhabitants increased so fast. Sweden is now the fastest growing country in Europe.
Over the past 10-15 years, immigrants have mainly come from Muslim countries such as Iraq, Syria and Somalia. Might this mass influx explain Sweden's rape explosion? It is difficult to give a precise answer, because Swedish law forbids registration based on people's ancestry or religion. One possible explanation is that, on average, people from the Middle East have a vastly different view of women and sex than Scandinavians have. And despite the attempts by the Swedish establishment to convince the population that everyone setting foot on Swedish soil becomes exactly like those who have lived here for dozens of generations, facts point in an altogether different direction.
The latest statistical survey of immigrant criminality compared to that of Swedes was done in 2005. The results are practically never mentioned. Not only that; anyone who dares refer to them, for example on social media, is viciously attacked.
Denigration of ethnic groups
Michael Hess, a local politician from Sweden Democrat Party, encouraged Swedish journalists to get acquainted with Islam's view of women, in connection with the many rapes that took place in Cairo's Tahrir Square during the "Arab Spring". Hess wrote, "When will you journalists realize that it is deeply rooted in Islam's culture to rape and brutalize women who refuse to comply with Islamic teachings. There is a strong connection between rapes in Sweden and the number of immigrants from MENA-countries [Middle East and North Africa]."
This remark led to Michael Hess being charged with "denigration of ethnic groups" [hets mot folkgrupp], a crime in Sweden. In May last year, he was handed a suspended jail sentence and a fine -- the suspension was due to the fact that he had no prior convictions. The verdict has been appealed to a higher court.
For many years, Michael Hess lived in Muslim countries, and he is well acquainted with Islam and its view of women. During his trial, he provided evidence of how sharia law deals with rape, and statistics to indicate that Muslims are vastly overrepresented among perpetrators of rape in Sweden. However, the court decided that facts were irrelevant:
"The Court [Tingsrätten] notes that the question of whether or not Michael Hess's pronouncement is true, or appeared to be true to Michael Hess, has no bearing on the case. Michael Hess's statement must be judged based on its timing and context. ... At the time of the offense, Michael Hess referred neither to established research nor to Islamic sources. It was only in connection with his indictment that Michael Hess tried to find support in research and religious writings. The Court therefore notes that Michael Hess's pronouncement was obviously not a part of any reasoned [saklig] or trustworthy [vederhäftig] discussion. Michael Hess's pronouncement must therefore be viewed as an expression of disdain for immigrants with an Islamic faith."
Statistical evidence
What may one conclude from the available statistics?
As part of the evidence Michael Hess presented in court, he made use of whatever statistics existed on immigrant criminality in Sweden before the statistical authorities stopped measuring. Michael Hess tried to find answers to two questions:
Is there a correspondence between the incidence of rape and the number of people with a foreign background in Sweden?
Is there a correspondence between the incidence of rape and some specific group of immigrants in Sweden?
The answer to both questions was an unequivocal Yes. Twenty-one research reports from the 1960s until today are unanimous in their conclusions: Whether or not they measured by the number of convicted rapists or men suspected of rape, men of foreign extraction were represented far more than Swedes. And this greater representation of persons with a foreign background keeps increasing:
1960-1970s – 1.2 to 2.6 times as often as Swedes
1980s – 2.1 to 4.7 times as often as Swedes
1990s – 2.1 to 8.1 times as often as Swedes
2000s – 2.1 to 19.5 times as often as Swedes
Even when adjusted for variables such as age, sex, class and place of residence, the huge discrepancy between immigrants and Swedes remains.
Research reports on crime in Sweden have become a rarity, but among the eighteen that were done during the 1990s and the 2000s, eleven dealt with rape. Two of these reports dealt with the connection between rape and immigration, and they both confirmed that there is a link.
These figures are available to the authorities, the politicians and the press, yet they insist that these numbers do not mirror reality.
Glaring discrepancy
How is it, then, that in 2008, Sweden's neighbor Denmark only had 7.3 rapes per 100,000 inhabitants compared to 53.2 in Sweden?
Danish legislation is not very different from Sweden's, and there is no obvious reason why Danish women should be less inclined to report rape than their Swedish counterparts.
In 2011, 6,509 rapes were reported to the Swedish police -- but only 392 in Denmark. The population of Denmark is about half the size of Sweden's, so even adjusted for size, the discrepancy is significant.
In Sweden, the authorities do what they can to conceal the origin of the rapists. In Denmark, the state's official statistical office, Statistics Denmark, revealed that in 2010 more than half of convicted rapists had an immigrant background.
Foreigners overrepresented
Since 2000, there has only been one research report on immigrant crime. It was done in 2006 by Ann-Christine Hjelm from Karlstads University.
It emerged that in 2002, 85% of those sentenced to at least two years in prison for rape in Svea Hovrätt, a court of appeals, were foreign born or second-generation immigrants.
A 1996 report by the Swedish National Council for Crime Prevention reached the conclusion that immigrants from North Africa (Algeria, Libya, Morocco and Tunisia) were 23 times as likely to commit rape as Swedish men. The figures for men from Iraq, Bulgaria and Romania were, respectively, 20, 18 and 18. Men from the rest of Africa were 16 times more prone to commit rape; and men from Iran, Peru, Ecuador and Bolivia, 10 times as prone as Swedish men.
Gang rapes
A new trend reached Sweden with full force over the past few decades: gang rape -- virtually unknown before in Swedish criminal history. The number of gang rapes increased spectacularly between 1995 and 2006. Since then no studies of them have been undertaken.
One of the worst cases occurred in 2012, when a 30-year old woman was raped by eight men in a housing project for asylum seekers, in the small town of Mariannelund. The woman was an acquaintance of a man from Afghanistan who had lived in Sweden for a number of years. He invited her to go out with him. She obliged. The Afghan man took her to a refugee housing project and left her defenseless. During the night, she was raped repeatedly by the asylum seekers and when her "friend" returned, he raped her too. The following morning she managed to call the police. Sweden's public prosecutor has called the incident "the worst crime of rape in Swedish criminal history."
Seven of the men were sentenced to between 4.5 and 6.5 years in prison. Prison time is usually reduced by a third, so it won't be long before the men will be ready for new assaults -- presumably on infidel women.
In cases of gang rape, culprits and victims are most often young and in almost every case, the perpetrators are of immigrant background, mostly from Muslim countries. In an astounding number of cases, the Swedish courts have demonstrated sympathy for the rapists. Several times the courts have acquitted suspects who have claimed that the girl wanted sex with six, seven or eight men.
One striking incident occurred in 2013, in the Stockholm suburb of Tensta. A 15-year-old girl was locked up while six men of foreign extraction had sex with her. The lower court convicted the six men but the court of appeals acquitted them because no violence had occurred, and because the court determined that the girl "had not been in a defenseless position."
This month, all major Swedish media reported on a brutal gang rape on board the Finnish Ferry Amorella, running between Stockholm and Åbo in Finland. Big headlines told the readers that the perpetrators were Swedish:
"Several Swedish Men Suspected of Rape on the Finland Ferry" (Dagens Nyheter).
"Six Swedish Men Raped Woman in Cabin" (Aftonbladet).
"Six Swedes Arrested for Rape on Ferry" (Expressen).
"Eight Swedes Suspected of Rape on Ferry" (TT – the Swedish News Agency).
On closer inspection, it turned out that seven of the eight suspects were Somalis and one was Iraqi. None of them had Swedish citizenship, so they were not even Swedish in that sense. According to witnesses, the group of men had been scouring the ferry looking for sex. The police released four of them (but they are still suspects) whereas four (all Somalis) remain in custody.
The internet radio station Granskning Sverige called the mainstream newspapers Aftonbladet and Expressen to ask why they had described the perpetrators as "Swedish men" when they were actually Somalis. That is irrelevant, said the journalists. They were hugely offended when asked if they felt any responsibility to warn Swedish women to stay away from certain men. One journalist asked why that should be their responsibility.
"If the women knew, then perhaps they would have stayed away from these men and avoided being raped," said the reporter from Granskning Sverige. Whereupon the journalist slammed down the phone.
While Gatestone Institute stands by the articles written for it to date by Ingrid Carlqvist, Gatestone is no longer affiliated with her in any way.