After a reception at the presidential palace in Israel in Mid-October, India's President, Pranab Mukherjee, said: "We are distressed at the recent violence [in the region]. India condemns all forms of terrorism. We have always advocated a peaceful resolution of all disputes." Later, the President told Israel's Leader of the Opposition, Isaac Herzog, "Violence is not a solution to any crisis. Violence achieves nothing but more violence. We in India believe in a principle of live and let live." What great new ideas!
Why, though, did President Mukherjee say so only in Israel? Apparently, he remained completely silent on the issue of terrorism when he visited the Palestinian Authority (PA) a day or two earlier. In Ramallah, he just reasserted India's position that New Delhi remained committed to the Palestinian cause, and supported a peaceful solution of the Israeli-Palestinian conflict.
It would have been more helpful if President Mukherjee had stressed his gospel of peace in the Palestinian territories, not Israel. Ever since its creation in 1948, Israel has believed in peaceful co-existence with Palestine. The successive offers of peace from Jerusalem have always supported this policy. During President Mukherjee's visit to Israel, its Prime Minister, Benjamin Netanyahu, said, "Israel wants peace, I want peace. I am interested in launching negotiations immediately, without preconditions. In order for this to happen, the terror incidents will have to stop and the Palestinians will have to recognize the State of Israel."
In contrast, not only has the Palestinian leadership never believed in peaceful co-existence, but it has constantly indulged in racist incitement, and often violence, to try to eliminate Israel. It was, in fact, to stem this violence that Israel was forced to build a defensive barrier, to successfully forestall more attacks.
The Palestinian leadership, including the Palestinian Authority, may refer to peace and co-existence on some diplomatic occasions, but they preach and practice non-stop hatred and violence against Israelis and Jews. Palestinian leaders have done a lot to whip up this violence but little to stop it. They have, instead, been saying things that would worsen the situation. On September 16, Palestinian Authority President Mahmoud Abbas, said, "Every drop of blood spilled in Jerusalem is pure, every shaheed [martyr] will reach Paradise, and every injured person will be rewarded by God."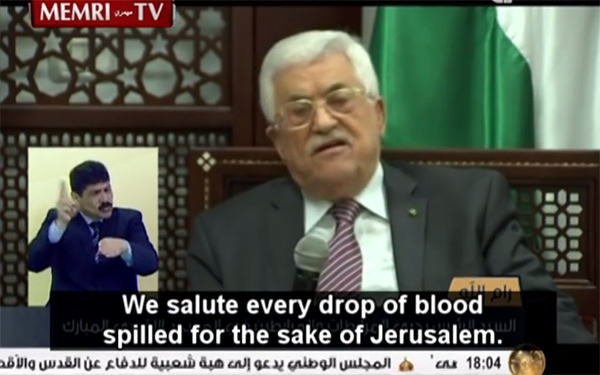 Palestinian Authority President Mahmoud Abbas, speaking on PA television, September 16, 2015.
On October 13, during a speech broadcast live on Palestinian television, Abbas accused Israel of "attacking holy places." He said Israel's "rejection" of peace and continued building of Jewish West Bank settlements were to blame for the current wave of violence. Palestinians "will not agree to the continuation of the situation on our lands..." Al-Aqsa [on the Temple Mount that is sacred also to Jews, as the location of the two destroyed Jewish Temples] is our right as Palestinians and as Muslims and no one else has a right there." The Palestinians would not agree to any change in the status quo in Al-Aqsa Mosque on the Temple Mount, but the Israelis had never suggested one.
In his recent speech before the United Nations General Assembly, Abbas fraudulently said:
"As long as Israel refuses to commit to the agreements (the 1993 Oslo Accords) signed with us, which render us an authority without real powers, and as long as Israel refuses to cease settlement activities and to release of the fourth group of Palestinian prisoners in accordance with our agreements, they leave us no choice but to insist that we will not remain the only ones committed to the implementation of these agreements, while Israel continuously violates them." During the same speech, Abbas accused Israel of exacerbating tensions on the Temple Mount, citing "extremist Israeli group incursions on the Al-Aqsa mosque."
The Palestinian leadership may refer to peace and co-existence on some diplomatic occasions, but they preach and practice non-stop hatred and violence against the Israelis and the Jews.
The misguided Palestinians, inspired by ISIS and armed with knives and firebombs, are following them. They are on a killing spree.
On October 15, 2015, Palestinian rioters in the West Bank city of Nablus set fire -- again -- to a holy site, Joseph's Tomb. The tomb is believed by Jews to house the remains of Joseph, the son of the biblical patriarch Jacob. This tomb had also been previously set ablaze and ransacked in 2000. As the conflict in the region turns from bad to worse, the terrorist outfit Hamas is declaring yet another "day of rage" against Israel.
According to a recent report, the recent spate of Palestinian terror attacks throughout Israel, especially in Jerusalem, has also been the work of Hamas and the Islamic Movement in Israel. Hamas is stoking the violence in the West Bank, while trying to keeping a lid on the violence in Gaza.
The report quotes Israel's internal security agency, the Shin Bet, as saying that Palestinian Authority chief Abbas is not actively encouraging terrorism. He is "even instructing his security forces to prevent terror attacks as much as possible." However, members of the Abbas-led Fatah party -- including so-called moderates -- have been actively supporting terrorists. Senior PA and PLO officials "are part of the incitement campaign," according to the Shin Bet. Abbas's own Fatah party has been glorifying the violence and praising those who carry out the violence against the Israelis. Fatah has also been distributing leaflets honoring terrorists that include photos of Abbas as well as the late Palestinian leader Yasser Arafat.
It is Palestine, not Israel, that needs the gospel of peace, Mr. President.
Jagdish N. Singh is a senior Indian journalist based in New Delhi, India.