Chancellor Angela Merkel has sparked a mutiny from within her own party over a controversial coalition deal that allows her to remain in office for a fourth term. The deal, in which Merkel agreed to relinquish control over the most influential government ministries, has led a growing number of voices from within her Christian Democratic Union (CDU) to say — publicly — that it is time to begin looking for her successor.
In a prime-time interview with ZDF television on February 11, Merkel, already in power for 12 years, rejected the criticism and insisted that she will serve another full four-year term. "I ran for a four-year term," she said. "I promised those four years and I'm someone who keeps promises. I totally stand behind that decision."
Merkel, who has been called the "Teflon Chancellor" because of her political staying power, may indeed manage to eke out another four years in office, albeit in a much-weakened position. Her decision in 2015 to allow into Germany more than a million migrants from Africa, Asia and the Middle East sparked a mass defection of angry CDU voters to the anti-immigration Alternative for Germany (AfD), now the third-largest party in the German parliament. As a result, in Germany's inconclusive election in September 2017, Merkel's party achieved its worst electoral result in nearly 70 years.

The coalition deal, reached on February 7 between her center-right CDU, their Bavarian partners, the Christian Social Union (CSU), and the center-left Social Democrats (SPD), must still be formally ratified by the SPD's 460,000 rank and file members in a postal vote that begins on February 20. The outcome of that vote will be announced on March 4.
If the coalition agreement is not approved, Merkel may attempt to form a minority government, or German President Frank-Walter Steinmeier may call fresh elections. Either way, Merkel likely will face growing pressure to step aside.
A poll published by Focus on February 17 found that German voters are increasingly growing weary of Merkel. Nearly half (47.2%) of the respondents said that Merkel should step aside during the next legislative period; 38.5% said Merkel should to complete the full term.
The jockeying to succeed Merkel has intensified in recent days. At least half-a-dozen people are said to be in the running to assume leadership of the CDU if Merkel steps down.
A top contender, according to German political commentators, is Jens Spahn, a 37-year-old openly homosexual Roman Catholic with a reputation for straight talk. One of the rising stars of CDU's younger generation, he is viewed by many as a possible future chancellor.
Spahn, who hails from Ahaus, a small town near the German-Dutch border, was elected to parliament at the age of 22, before he was graduated from university. As deputy finance minister since 2015, he has been a vocal critic of Germany's healthcare and pension systems because of the massive financial burden they impose on future generations.
Spahn, a politically incorrect "liberal-conservative," appears determined to reverse some of the CDU's leftwards ideological drift, which occurred under Merkel's leadership. He has accused the CDU of being "too accommodating of a liberal elite that has become convinced of its own moral superiority." He has also said that he wants to win back disgruntled CDU voters who defected to the AfD.
Merkel may try to thwart Spahn's ambitions in retaliation for his public criticism of her policies. Spahn does not, however, appear easily intimidated.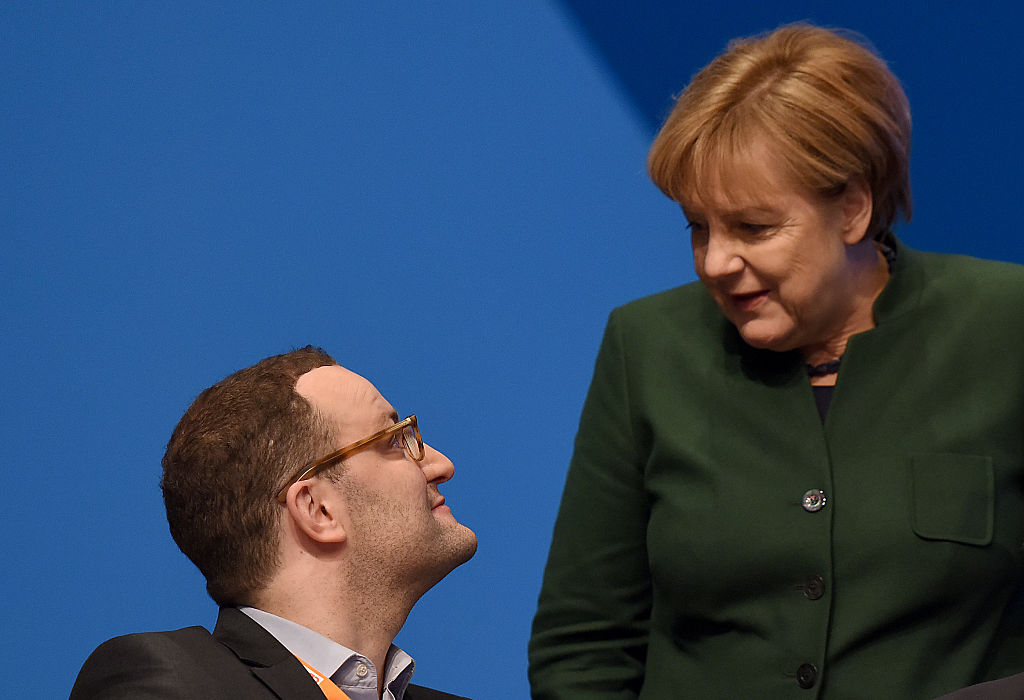 Pictured: German Chancellor Angela Merkel (right) and Jens Spahn (left), a top contender for succeeding Merkel as leader of the CDU party. (Photo by Volker Hartmann/Getty Images)
The following is a brief compilation of Spahn's stated positions on issues related to Islam, immigration and integration.
Islam
Spahn has said that Germany needs an "Islam law" to regulate Muslim religious communities and ensure that what is being preached in mosques around the country is "transparent." He cited Austria as a precedent: "The Austrians have had an Islam law since imperial times and things there function better. We could learn from them."
Spahn has called for German language tests for imams, saying that many of the preachers who deliver sermons in German mosques come from abroad, cannot speak German and are paid by other countries: "Do we really know if their sermons are being made in accordance with our laws? And it's about more than that. Is it enough, just to ask that they don't break the law? Should they not encourage cooperation and integration?"
Spahn has demanded that mosques be registered, saying that authorities "do not know how many mosques there are in Germany, where they are or who finances them."
In addition, Spahn has called for the training of imams, teachers of religion and counselors to be paid for with taxpayer money. "That will be a hard debate, but I would rather we finance this than that the money comes from Turkey or Saudi Arabia," he said, noting that a "church tax" for Muslims was also a possibility: "If the Muslim communities want a tax law, we should talk about it." He added: "What is clear at any rate: the financing by foreign actors must stop."
Spahn has criticized Christian churches in Germany, accusing them of being "uncritical" with respect to Islam. "A friendly photo of fast-breaking, then each goes their own way; it can't go on like that."
In an interview with the Guardian, Spahn said:
"Germany's dominant culture and lifestyle has become a lot more liberal in the last 10 years, whether you are looking at gays and lesbians or at immigration. But my biggest fear is that this new openness is under pressure—from a very conservative form of Islam and a rightwing backlash against immigration—and that we will have to fight very hard to preserve it."
Spahn recently asked: "What is our relationship to Islam? I would like to turn this question around: what is the relationship of Islam to us?"
Open Borders
Spahn has repeatedly criticized Merkel's open-door migration policy. He has described Merkel's failure to control mass migration as "a kind of state failure."
In an interview with Die Zeit, Spahn said he supports Hungarian President Viktor Orbán's decision to close the Balkan refugee route:
"The protection of the EU borders is in the EU treaties. What Orbán is doing at the EU's external borders is EU law, whether that pleases you or not. The message that 'If you reach a Greek island, you will be in Germany in six days,' not only encourages refugees from Syria, but also many people in Bangladesh and India. No country in the world, and no European Union, can withstand that if we give up control of our external borders."
Integration
Spahn has said that all migrants should be required to adapt to German society. In an interview with the Financial Times, Spahn said:
"For me what is decisive is that those who come here, understand, above all, that the values of the western world, this freedom, these basic principles, are different from those in Afghanistan, Syria, China or Bangladesh and that our society is therefore different.

"In essence, it is not only a matter of living by and recognizing the rules, but also of feeling that you belong to a community with a common future."
Spahn told Die Welt: "To anyone who makes their way to Germany, it must made be clear that their life here will be very different from that at home. They should think carefully about whether they really want to live in this western culture."
In an interview with Stern, Spahn said that German immigration policy must be revised: "Let us formulate common expectations for those who want to be part of our society, and then ensure that those expectations are complied with."
Spahn told Der Spiegel: "To anyone who considers our open society to be corrupt and effeminate, or who wants to live in a theocracy, I simply say: go and find another country."
Spahn has attacked those on the political left who, he said, have sought to justify honor killings and forced marriages as being culturally determined.
Spahn has demanded strict penalties for Muslims who refuse to send their children to school:
"Anyone who does not allow his daughter to attend school must know that in the future the girl will be picked up at her home by government agencies and brought to school. If children are persistently truant, welfare benefits should be cut. We have not been consistent enough in the past, and this misunderstood tolerance has always been to the detriment of the children."
Spahn has called for punishing repeat offenders with tougher penalties: "The biggest problems we have with the lack of willingness to integrate is with migrants from the Arab region—unfortunately also in matters of crime."
Spahn has called for a burqa ban: "A ban on the complete veiling, of nikabs and burkas, is overdue, even as a signal to the world." He added that men who force their wives to wear the Muslim full veil are "wrong" to be in Europe. "I do not want to see a burka in this country," he said. "In this sense, I am a burkaphobe."
On a television talk show broadcast by ZDF, one of Germany's main public broadcasters, Spahn said: "It is not particularly enriching to drive through streets where I don't see any women, and if I do, they are wearing headscarves."
Muslim Anti-Semitism
Spahn has repeatedly warned that Germany is "importing" anti-Semitism from the Muslim world, where, he said, the hatred of Jews is an "omnipresent part of everyday life." In an interview with Der Spiegel, said that Muslim immigrations were responsible for a resurgence of anti-Semitism in Germany: "Let's not fool ourselves: immigration from Islamic countries is changing the climate in our country."
Spahn denounced pro-Palestinian demonstrators who in December called for the murder of Jews and burned Israeli flags at the Brandenburg Gate to protest the U.S. recognition of Jerusalem as the capital of Israel. "Burning the Star of David in front of the Brandenburg Gate is unacceptable, whether by right-wing extremists or Arab fanatics. The response from our government must be resolute." He added: "We have been ignoring imported anti-Semitism for too long with shrugs of misunderstood tolerance."
Spahn appears to harbor no illusions about Palestinian nationalism. "Israel uses weapons to protect its civilians, Hamas uses civilians to protect its weapons," he wrote in a tweet.
Anti-Americanism
Spahn has criticized the SPD for stirring up "cheap resentment" against the United States: "I find it impossible that [Foreign Minister Sigmar] Gabriel and [SPD chancellor candidate Martin] Schulz constantly show our American friends the middle finger." He said that the SPD's treatment of the United States, Germany's closest ally, was "irresponsible" and added: "There are transatlantic traditions that a Foreign Minister should not trample on." He also accused Schulz and Gabriel of setting "completely different standards" with regards to U.S. President Donald Trump and Russian President Vladimir Putin.
Future Plans
Spahn, who has said that politics are part of his genetic makeup, recently visited an elementary school in his electoral district, where a fourth-grader asked him: "Do you want to be chancellor one day?" Spahn replied: "Let's wait and see. I enjoy being part of making fundamental decisions. We'll see what jobs might await."
Soeren Kern is a Senior Fellow at the New York-based Gatestone Institute.