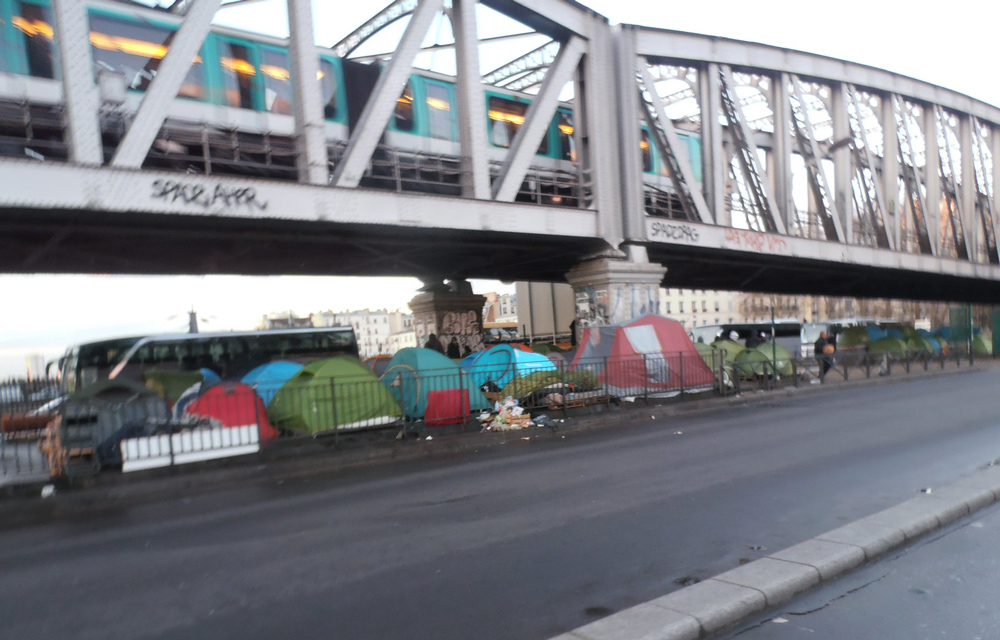 French police recently cleared more than 2,000 migrants from makeshift encampments in northern Paris. The crackdown appears to be aimed at blunting the rising popularity of the anti-mass-migration National Rally party and its leader Marine Le Pen. Pictured: A migrant tent-camp near Porte de la Chapelle (northern Paris) in 2015. (Image source: Jeanne Menjoulet/Flickr)
French police recently cleared more than 2,000 migrants from makeshift encampments in northern Paris. The crackdown comes after the government announced a series of measures to curb illegal immigration.
The migration crackdown appears to be aimed at blunting the rising popularity of the anti-mass-migration party National Rally and its leader Marine Le Pen. She has dismissed the government's actions as a "political swindle" that will increase, not decrease, immigration.
On November 28, police began removing hundreds of migrants from a camp at Porte d'Aubervilliers in the 19th arrondissement in northeastern Paris. The clearance operation was delayed by a week due to an insufficient police presence to guarantee security. An estimated 2,000 migrants are living in the camp in squalid conditions.
On November 7, 500 police officers cleared more than 1,600 migrants from two makeshift camps near Porte de la Chapelle in the 18th arrondissement in northern Paris. The camps, consisting mostly of tents, were located under the Boulevard Périphérique, a massive, multi-lane ring road that loops around the French capital.
A total of 1,606 migrants, from Africa, Asia and the Middle East, were put on buses and taken to temporary accommodations in other parts of Paris. Many other migrants, presumably those whose asylum applications have already been denied, fled before the buses arrived to avoid being registered, processed and possibly deported.
Interior Minister Christophe Castaner said that the migrants will be housed at public facilities while their asylum requests are being processed. He added that those whose asylum requests are denied would have to leave France.
Police said that they would maintain a presence in the areas to ensure that the migrants do not return. "I will no longer tolerate these installations by the roadside here or anywhere else on public spaces in Paris," said Paris Police Chief Didier Lallement.
The Deputy Mayor of Paris, Emmanuel Grégoire, said that in addition to the camp in Porte de la Chapelle, there were another 1,600 migrants in a camp at nearby Porte d'Aubervilliers and more camps at Porte de la Villete and in Seine-Saint-Denis, all in northern Paris.
Observers said that the crackdown in Paris could trigger a mass movement of migrants to the northern port city of Calais, from where they may try to reach Britain by crossing the English Channel. French authorities cleared a sprawling migrant camp in Calais in 2016, and many residents of the camp fled to Paris and set up migrant camps across the city.
The clearing operation in Paris is part of a package of 20 measures announced by Prime Minister Édouard Philippe on November 6 to "take back control" over migration policy.
Philippe, who serves under President Emmanuel Macron, said that the government would clear all the migrant camps in France before the end of the year, restrict access to medical care for migrants who are not authorized to be in France, and establish quotas for migrants with professional skills to offset labor shortages. He also said that the government would create 16,000 more housing spaces for migrants, along with three more detention centers for those not authorized to be in France.
"It's about sovereignty," Philippe said. "We want to regain control of our immigration policy. Taking back control means ensuring that when we say yes, it really means yes, and when we say no, it really means no."
Philippe insisted that the measures were the mark of a "France that is open but not naïve," adding that they strike the "right balance between reassuring our citizens and not giving ground to populism."
Critics noted that Philippe's measures will not resolve the underlying problem — that the French government refuses adequately to secure the country's borders to prevent illegal migrants from entering France in the first place.
Immigration has become a major political issue ahead of French municipal elections to be held in March 2020, and presidential elections set for 2022. Polls show that Macron's La République En Marche party (LREM) is currently running neck and neck with Le Pen's National Rally party, according to an Ifop survey published by Le Journal du Dimanche on November 3.
In September, Macron hinted at a tougher line on immigration, arguing the government must stop voters from drifting to populist parties. "France cannot host everyone if it wants to host them well," Macron told French radio station Europe 1 on September 25.
Macron's comments caused a backlash from left-leaning members of his own party who penned two open letters warning against "fueling hatred against all Muslim citizens." LREM lawmaker Jean-François Cesarini accused Macron of "co-opting the talking points" of Le Pen's National Rally.
On October 7, during a parliamentary debate on immigration, Philippe tried to present a united front. He told lawmakers at the National Assembly that the government does not seek to crack down on immigration "as a whole," but rather to simplify some processes and improve the situations of those who are legally in France. He added that the government wanted to crack down on illegal migration and people-smuggling.
Le Pen described the government's announced crackdown on illegal immigration as a "political swindle" and a "smokescreen" that will lead to even more immigration. Speaking on Europe 1 Radio, she noted:
"The government has decided nothing. There will always be 255,000 legal aliens per year, plus 100,000 asylum seekers, plus all the illegal immigrants that no one has even considered counting, plus thousands of unaccompanied minors."
Le Pen also questioned the government's plan to establish quotas for foreign workers: "With six million unemployed, is the urgency not to find employment for the French?"
MP Nicolas Dupont-Aignan of the eurosceptic party Debout la France said that the government's plan "will bring in migrants to nurture professions that should be nurtured by our youth."
Independent MP Emmanuelle Ménard dismissed the government's plan as "symbolic" and a denounced the "absolute record" of new asylum applications since Macron took office in May 2017.
"The number of asylum applications in France increased by more than 20% in 2018 while it is declining everywhere else in Europe. Why is it declining elsewhere and increasing in France? Maybe we need to ask the question, why is this 'French Eldorado' being promoted everywhere?"
France received a record 122,743 asylum requests in 2018, a 22% increase over 2017, when France received 100,775 requests, according to the Interior Ministry's Directorate General of Foreigners in France (DGEF). By comparison, France received 85,726 asylum requests in 2016, 80,075 in 2015, 64,811 in 2014 and 66,251 in 2013.
Asylum seekers in 2018 were mostly from Afghanistan, followed by Guinea, Albania, Georgia, Ivory Coast, Sudan, Bangladesh, Congo and Mali, according to DGEF.
In 2018, 6.5 million immigrants were living in France, representing 9.7% of the total population of 67 million, according to data published on October 8 by the French statistics agency INSEE. In 2018, 46.1% of immigrants living in France were born in Africa; 33.5% were born in Europe.
An estimated 320,000 people were living in France illegally in 2018, according to data compiled by the Ministry of Health. The estimate is based on the 318,106 migrants who have a card that allows free access to state medical services (L'aide médicale de l'État, AME), costing French taxpayers roughly 1 billion euros a year. Not all illegal immigrants have an AME card, so the actual number of undocumented immigrants may be much higher.
Meanwhile, illegal immigration to and through France continues unabated. On November 2, for instance, 31 Pakistani migrants were found in the back of a truck on the A8 motorway during a police check at a toll booth near Nice. The migrants were sent back to Italy. October 28, eight Afghan migrants, including two children, were found with hypothermia in a refrigerated truck at the port of Calais.
On October 19, thirteen migrants, including one child, were found in the back of a cattle truck at the port of Calais. The British driver was detained by French authorities. Four others were arrested by the UK's National Crime Agency (NCA) in a string of raids in Romford, London and Brentwood in Essex.
A total of 237 vessels were intercepted in the English Channel during the first nine months of 2019, according to Pas-de-Calais prefecture, the regional government in Calais. British authorities brought 138 boats to the UK, while the rest were intercepted by the French. More than 1,460 migrants have crossed the Channel to England successfully in 2019; another 1,105 were stopped in France.
Soeren Kern is a Senior Fellow at the New York-based Gatestone Institute.