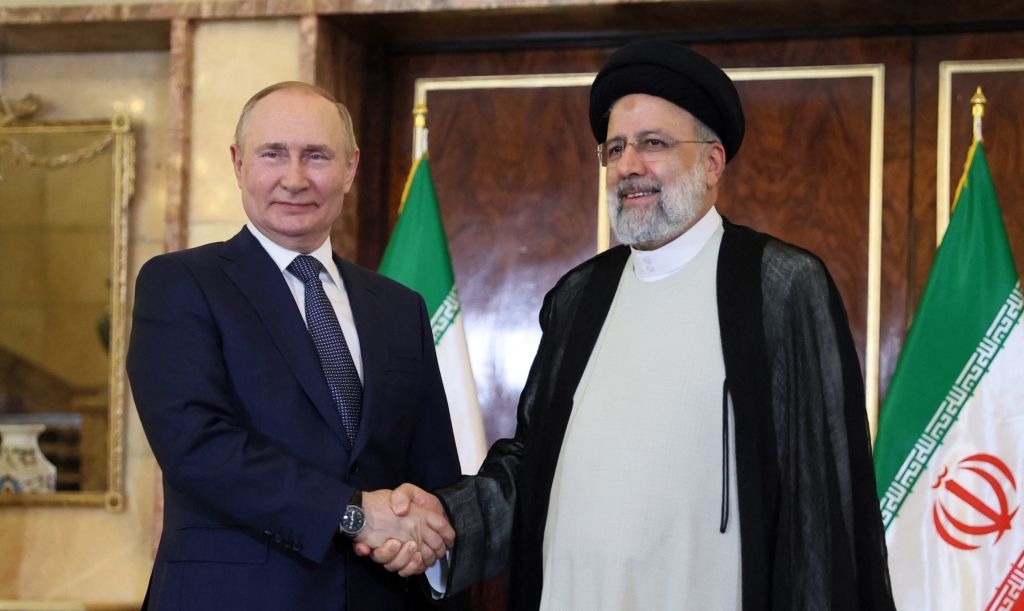 One of the reasons that rogue states such as Iran and Russia have become so empowered is that, thanks to the Biden Administration's apparent decision not to enforce sanctions, both countries have been freely evading them.
Instead of enforcing sanctions, the Biden Administration has actually been issuing waivers, making the sanctions appear to be simply cosmetic. On June 10, 2023, for instance, the Biden Administration gave Iraq a sanctions-waiver along with a green light to make a payment of $2.76 billion to the Iranian regime.
The Biden Administration also tried to deny that it had issued another waiver to Iraq to pay $500 million to the Iranian regime. According to a report by the Free Beacon, the waiver was issued "a day after Biden administration officials denied Iran's claims that the United States had paved the way for Tehran to receive the $500 million."
The regime will most likely use the funds to further arm and assist Russia in its invasion of Ukraine, to brutalize its own citizens, to undermine US national security interests, to fund its terrorist and militia groups across the Middle East and to expand more deeply into Latin America. As Senator Ted Cruz (R-TX) pointed out:
"Of course the Biden administration lied that they wouldn't waive sanctions on Iran just days before they did so. They know that by allowing money to pour into Iran, they are not only endangering the safety and security of Americans but also undermining everything they claim to believe about defeating Putin. They say that Iran is a terror sponsor and Russia's top military backer, but appeasing Iran and getting back into a nuclear deal with the Ayatollah is more important to them. They are funding both sides of the Ukraine war."
Russia is learning from Iran on how to evade sanctions as well, according to a report from Britain's Royal United Services Institute (RUSI), published on June 6. Examples include:
"the switching of ownership of companies and properties to family members or affiliates, the use of trading companies to source foreign exchange to avoid the sanctions imposed on the Central Bank of Russia, and import substitution.... Alongside these steps, Russia is now gravitating further towards other states that have faced similarly sweeping restrictive measures or that facilitate sanctions evasion, to learn best practices, secure necessary services and establish trade relationships."
In addition, Russia and Iran have signed an agreement to build a sanction-proof $1.7 billion intercontinental rail system for global trade in an apparent effort to compete with the Suez Canal. To bypass sanctions, Iran and Russia in February 2023 also signed an agreement to integrate their banking systems.
Iran recently joined the Shanghai Cooperation Organisation (SCO), headed up by Russia and China. The SCO will allow the mullahs to further increase their trade and revenues in spite of sanctions. "By signing the document for full membership of the [SCO], now Iran has entered a new stage of various economic, commercial, transit and energy cooperation," stated foreign minister Hossein Amirabdollahian.
Last year, the Biden Administration issued a waiver that had been rescinded by the Trump Administration, permitting companies from Europe, Russia and China to advance work in Iran's nuclear sites. This was most likely done in the hope of reviving the nuclear deal which would further facilitate the flow of funds to the Iranian regime, lift sanctions, and enhance Tehran's global legitimacy. As US Rep. Mike Lawler (R-NY) pointed out:
"Iran continues to thumb its nose at U.S. sanctions, at our allies, and continues to work to undermine the state of Israel and abolish it. We need to be very unified, along with our allies, in pushing back vociferously against actions that Iran is taking, whether it is producing and disseminating petroleum or whether it is trying to undermine the sanctions that have been put in place."
Only because of the Biden administration's weak leadership, policies of appeasement and reluctance to seriously enforce sanctions have Russia and Iran been able to create so much devastation at such an unprecedented level.
Dr. Majid Rafizadeh is a business strategist and advisor, Harvard-educated scholar, political scientist, board member of Harvard International Review, and president of the International American Council on the Middle East. He has authored several books on Islam and US Foreign Policy. He can be reached at Dr.Rafizadeh@Post.Harvard.Edu