Rimsha Masih, a young Pakistani Christian girl, who was arrested in August 2012 by Pakistan's police for alleged blasphemy, has escaped the country with the direct help of Canadian Immigration Minister Jason Kenney and AVAAZ, a civic organization. Local media and her parents said she was as young as 11 at the time of her arrest; medical reports classified her as an "uneducated" 14-year-old with a mental age younger than her years. Accused of burning pages of the holy book for Muslims, the Quran, Masih, under Pakistan's "blasphemy laws," faced the death penalty.
Masih fled with her family members to Canada, where Immigration Minister Jason Kenney instructed officials to process the family's applications for permanent residency on humanitarian grounds.
While Masih and her family are fortunate, no one knows what will happen to the rest of the Christians of Pakistan. Even though they make up only about two percent of the population -- or precisely because of it: there are so few, they may appear invitingly vulnerable -- they suffer beatings by their neighbors, murder by the police and imprisonment by the courts.
Last month, three Christian women, Arshad Bibi, Sajida Bibi and Sauriya Bibi (Bibi means a lady or girl) were brutally beaten and forced to parade naked by the armed henchmen of a landlord, who happens to connections in ruling party PML(N).
According to reports, the incident occurred on the night of June 3, as the male members of the family were at work. The armed men entered the house by jumping the boundary wall, then unlocked the gate from inside. The women, along with two elderly relatives, were asleep. The attackers looked for the men; when they could not find them, they began to beat the three women. They then took the young Christian women into the street, tore off their cloths and forced them to parade naked.
Aasia Bibi, another Pakistani Christian woman who was the Pakistani court, has now been imprisoned for four years under the country's blasphemy law. After having been given a death sentence, she is on death row for a comment that Jesus Christ is not dead but that the Prophet Mohammed is dead. For this statement, she was brutally beaten by her Muslim co-workers and arrested by the police.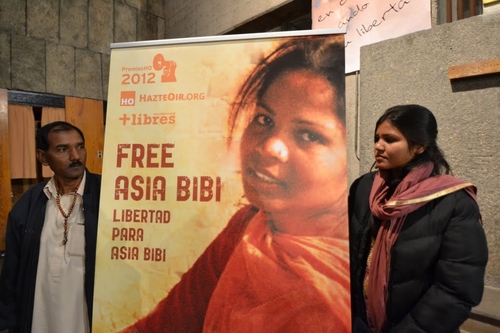 Aasia Bibi's family members campaign for her release in Spain, December 13, 2012. (Source: HazteOir.org)
Killing, oppression and humiliation are more and more frequently taking place in Pakistan. In addition to the well-known cases of Martha Bibi, Younis Masih, Rifaqaat Masih, Sawan Masih, Samuel Masih [Masih, meaning "messiah", is a very common name among Pakistan's Christians] and many others are also being subjected to killings, imprisonment with long sentences, beatings, and burnings. In just the past few months, for instance, Pakistani police killed three Christian boys for love affairs with Muslim girls. Afzal Masih 20 and Iftekhar Masih 20 were killed on Aprl 29, and Adnan Masih was tortured, then killed, by the police on June 10.
In August 2012, an 11-year-old Christian boy was found dead, with his lips and nose sliced off, his stomach removed and his legs mutilated. Police said he had also been subjected to sodomy.
The Society for the Protection of the Rights of the Child reports that as many as 2,000 girls and women from various minority sects have, through rape, torture and kidnapping, been forcibly converted to Islam; and in 2011 alone, 161 people were charged with "blasphemy." According to reports, in 2009, eight Christians were burned to death in Pakistan's province of Punjab after rumors spread of a desecration of the Quran.
In April, 2013, the U.S. Commission on International Religious Freedom warned that the risk to Pakistan's minorities has reached a crisis level. The Commission said that the blasphemy laws, and others, are used to violate religious freedoms and foster a climate of impunity.
Blasphemy laws are, at present, the most significant tool for persecution against the Christian community. These laws, however have also often been used to settle personal disputes or just to make Pakistan into a Christian-free state. These trends sharply escalated when, in 1986, Pakistan's late military ruler, General Zia-ul-Haq, harshly amended the British-era blasphemy laws in Pakistan's penal code, with sections 295-C, 298-A, 298-B, and 298-C the most dire:
Section 295-C: "Use of derogatory remarks, etc., in respect of the Holy Prophet…shall be punished with death or imprisoned for life…"

Section 298-A: "Uttering words, etc, with deliberate intent to wound religious feelings…."

Section 298-B: Misuse of epithets, descriptions, titles reserved for certain holy personages or places…"

Section 298-C: "A person who poses himself as a Muslim…. or in any manner whatsoever outrages the feelings of Muslims." [Emphasis added.]
No later government has since dared to re-amend them.
Since 1986, more than 1200 people have been charged under blasphemy laws. The Asian Human Rights Commission has cited the Islamabad-based institute Center for Research and Security Studies in a report which says that more than 1,000 people have been charged in Pakistan for committing offences against the blasphemy law. Since 1990, 52 people have been extra-judicially murdered for being implicated in blasphemy charges. Among them, 15 were Christians.
Nasir Khan, a Pakistani who resides in Dhaka, Bangladesh, has said that no evidence is required before the court; just the verbal statements of two or three persons are enough to punish a non-Muslim for blasphemy.
The Urdu newspapers Insaf and Khobrain both reported on 28 August 2000 that a Justice of the Lahore High Court, Nazir Akhtar, said that "Anyone accused under blasphemy charges should be killed on the spot by Muslims as their religious obligation and that there is no need for legal proceedings for a blasphemer." Justice Akhtar continued: "We shall slit every tongue that is guilty of insolence against the Holy Prophet."
The Christians of Pakistan are also being scapegoated during national and local elections. A provincial assembly candidate Mehr Abdul Sattar has instigated calls from mosque loudspeakers for attacks on Christians, whom he blames for his May 11, 2013 election loss.
According to Younus Iqbal, the chairman of the Anjuman-e-Mazareen, a peasant movement fighting for land rights, what blares from the village mosque is: "Burn their homes to the ground…Punish them such that they forget Gojra and Joseph colony."
On March 9, about 3,000 Muslims attacked Christians in the Joseph Colony and destroyed 175 houses after the rumor spread of a remark against Islam by a Christian. In 2009, eight Christians were burned alive after a blasphemy accusation. More instances of young Christian girls raped, abducted, kidnapped and murdered include:
Nisha, a nine-year-old Christian girl, abducted by Muslims, gang raped, murdered by repeated blows to her head, and dumped into a canal (May, 2009).
Gulfan, nine-year-old Christian girl, raped by a Muslim man. During her ordeal, the rapist told her not to worry because he had done the same service to other young Christian girls (December, 2010).
Lubna, a 12-year-old Christian girl, kidnapped, gang raped, and murdered by a group of Muslims (October, 2010).
Anna, a 12-year-old Christian girl, gang raped for eight months After she escaped, her Christian family was in hiding from both the rapist and the police (October, 2011).
After a gang raping a 13-year-old Christian girl, Muslims came to her house and beat her pregnant aunt. The police then accused the girl of committing adultery with the three men (June, 2012).
Amirah, a teenage Christian girl, murdered during an attempted rape (December, 2011).
Mehek, a 14-year-old Christian girl, abducted at gunpoint in broad daylight from her parents' house. One of her abductors declared he would "purify her" by making her Muslim (August, 2011).
Shazia, a 12-year-old Christian girl, raped and murdered by a rich Muslim lawyer, who was then acquitted (November, 2010).
A powerful Muslim businessman kidnapped two Christian sisters, whom he forced to convert to Islam and then marry him (May, 2011).
Although Rimsha Masih and her family fled to Canada to escape death threats, they left behind hundreds of "Rimshas," captive in their own land and facing death, rape and abduction, just due to their religion.
The Islamic Republic of Pakistan is now one of the most dangerous places for Christians to live.