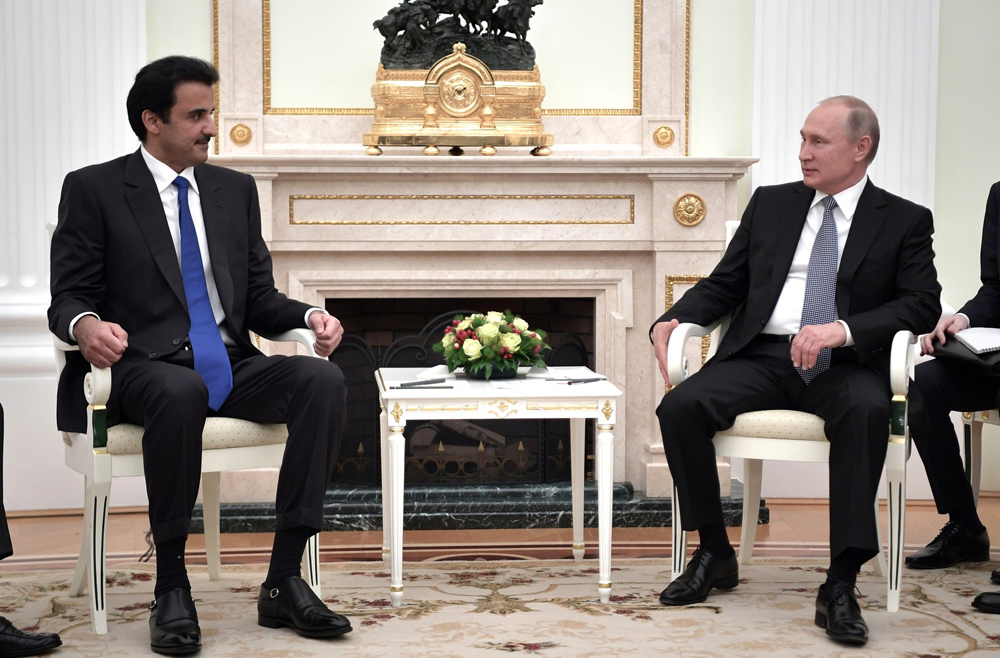 Qatar is in talks to purchase Russia's S-400 air-defense system. Despite Saudi Arabia's reported opposition to the deal, Russia says it is moving forward anyway. Pictured: Russian President Vladimir Putin meets with the Emir of Qatar, Sheikh Tamim bin Hamad Al Thani, in Moscow on July 15, 2018. (Image source: kremlin.ru)
Since 2017, when five countries of the Gulf Cooperation Council (GCC) severed diplomatic and trade ties with Qatar for siding with the Muslim Brotherhood and other terrorist groups, Doha has been forging new alliances, particularly with Russia and China.
During a military parade in December 2017, Qatar's armed forces showcased new Chinese guided ballistic-missile systems that have a range -- up to 400 km -- that encompasses Qatar's neighboring Gulf States. In September 2018, PetroChina struck a long-term deal with Qatargas to purchase 3.4 million tons per year of liquid natural gas.
Defense and economic ties with Qatar are crucial to China's plans to extend its influence in the Middle East through the Belt and Road Initiative (BRI). China is aware that for the BRI to be successful, the GCC must be reunited. Given its own cordial relations with the GCC, Beijing sees engagement with Doha as an opportunity to become a key mediator in the Qatar-GCC crisis.
Qatar is also in talks to purchase Russia's S-400 air-defense system. Despite Saudi Arabia's reported opposition to the deal, Russia says it is moving forward anyway.
With Russia under U.S. sanctions, and Qatar under a GCC blockade, defense and trade ties between Moscow and Doha are mutually beneficial. In 2016, for example, Qatar purchased a huge stake in Russia's state-controlled oil company, Rosneft.
This strengthening of ties is taking place in spite of the fact that Moscow and Doha are on opposite sides of the Syrian civil war, with Russia backing the Assad regime and Qatar supporting the rebel forces. Qatar is likely seeking Russian mediation to resolve its crisis with the GCC.
Qatar's interest in Chinese and Russian weapons systems probably has less to do with deterring Saudi Arabia's more powerful military than it does with forging alliances beyond those it has with the U.S., in the event that Washington ends up backing the blockade against Qatar. Qatar may also be apprehensive about reports of U.S. plans to move from Qatar to Saudi Arabia its Central Command (CENTCOM) forward headquarters and its military deployment at Al-Udeid airbase, due to Doha's burgeoning relations with Iran, China and Russia.
CENTCOM, however, called these reports "false and without merit." In addition, the U.S. recently announced new sales to Qatar of Advanced Precision Kill Weapon Systems.
In other words, while enhancing its ties with Russia and China to survive the GCC blockade, Qatar has not forfeited its relations with the U.S., which it possibly sees as another potential mediator in the Gulf crisis. Meanwhile, Qatar is doubtless aware that both Russia and China -- not just the U.S. -- have good relations with Saudi Arabia and the UAE.
From a U.S. perspective, maintaining good relations with -- and diplomatic leverage on -- Qatar is crucial to resolving the Gulf crisis and preventing Doha from further strengthening its ties to Tehran, Beijing and Moscow.
In a July 2017 interview -- several months before becoming U.S. President Donald Trump's National Security Advisor -- John Bolton said:
"We need a united anti-Iran front, and Qatar needs to come closer to its friends on the peninsula, us, the U.S., and Israel on that point. And in the meantime, let's help Qatar along here. Why doesn't the United States get on with the business of declaring the Muslim Brotherhood a foreign terrorist organization? And then that gives Qatar the excuse to go ahead and do it too, so we can cut off everyone's funding for them, whether it's in Egypt, the United States, or anywhere else in the world."
The time is not only ripe for Washington to take this step; it is essential.
Debalina Ghoshal, an independent consultant specializing in nuclear and missile issues, is based in India.