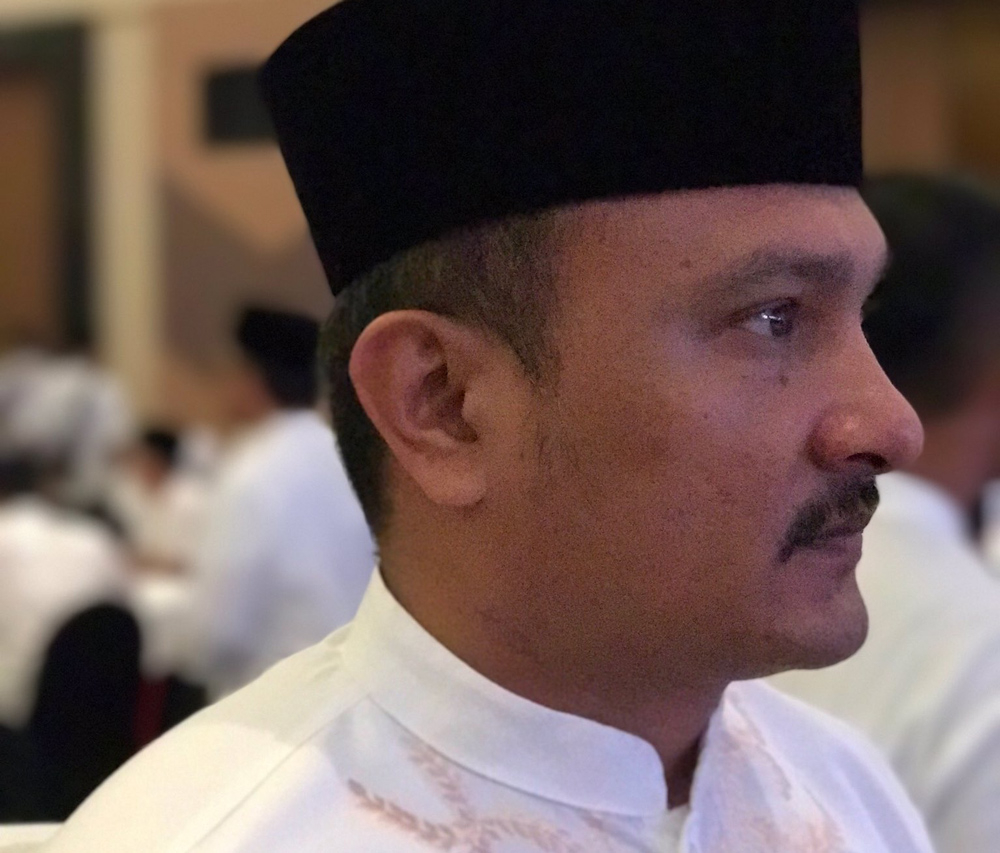 On January 10, Ferdinand Hutahaean, a Christian politician, was arrested in Indonesia for a tweet that was deemed offensive to Islam. He is facing up to 10 years imprisonment. (Image source: Debby Priatni/Wikimedia Commons)
The Slaughter of Christians
Uganda: A Muslim man, according to a Jan. 5 report, "is suspected of hanging his wife and two children because the young mother and oldest child received Christ after attending Christmas Day and Sunday worship services." On Dec. 27, Shamira Nakato, 27, and her two children, 3 and 8, had attended a church service. When Shamira's husband, who was away on business, returned early, a Muslim neighbor informed him that his wife and children had been seen attending a church. The Muslim man then went to the church.
"When he entered the church, his wife and the children were seated at the back," the church's pastor said. "He pulled her out of the church, and about 100 meters away, a member saw him beat his wife." Another neighbor confirmed that he later heard screaming from the Muslim household, then saw "two men wearing Islamic prayer caps outside [the] house putting together an undefined wooden structure."
The next morning, the neighbor went to borrow a tool. No one answered, but the door was unlocked, so he entered. There he found the woman and her two young children hanging dead. The recently built wooden structure had served as a scaffold.
In a separate incident, a man who was severely beaten by his Muslim relatives for placing his faith in Christ died from his wounds days later, on Jan. 25. Following his conversion in 2016, Bashir Sengendo, formerly a mosque leader, left his home village. Immediately his family reached out and urged him to return to tend to a portion of land that they had supposedly allocated to him. "This request continued for the last six years, but I had been reluctant to go back home," Bashir explained from his hospital bed before succumbing to his wounds. He eventually decided to return, arriving on the evening of Jan. 12:
"I was shocked to receive a cold reception and slept without food, only to be attacked and beaten badly in the morning by my brother and my uncle. They cut me with an object in the head, back and hand.... As the attackers were hitting me, my uncle said that the family spent a lot of money training me as a Muslim teacher, and that I have caused a lot of shame to the family and Muslims at large."
Police and neighbors responded to the ruckus; they rescued Bashir and took him to a hospital. He died 13 days later.
Pakistan: On Sunday, Jan. 30, Muslim gunmen shot and killed a Christian pastor and wounded another, as the two clerics drove home following church service in Peshawar. According to Reuters:
"No one immediately claimed responsibility for the shooting in a city where scores of people died in a twin suicide bombing outside a church in 2013—one of the deadliest attacks on Pakistan's Christian minority."
Pastor William Siraj, 75, was killed instantly when two assassins suddenly appeared on a motorcycle, opened fire on the car, and sped away. Humphrey Peters, a Church of Pakistan Bishop, described what happened:
"Siraj received one bullet in the forehead and one on the arm and died instantly, while Rev. [Patrick] Naeem received a bullet wound in the hand. It's a miracle that Rev. Naeem and another priest [also in the car] escaped the volley of bullets.... Siraj had lost his son-in-law in the gun-and-bomb attack on Peshawar's All Saints Church in 2013, in which over 70 worshippers were killed and 100 others were wounded. He is survived by his wife, a son and a daughter. This is a very tragic loss for our church."
In another incident, unknown Muslims reportedly drugged a Christian family; as a result, the eldest, Malkam D'Costa, 91, died of the poisoning, while five others were hospitalized. Although the official story is that the family was robbed in the night, the larger Christian community is convinced that it was an intentional targeting of a Christian family. According to the report:
"[I]n 2021, a neighbour of Malkam D'Costa was also forced to take a sleeping pill and then raped while she was alone at home. Her husband is employed as a night watchman at a Catholic school.

Once she regained consciousness, she filed a complaint against a Muslim man, Mohammad Alam, and Malkam D'Costa's son testified in her favour despite the fact that the accused's family put pressure on him to get the charges dropped.

For this reason, the Christians in Padrishibpur believe that the killing was an act of revenge connected to the rape case.

Yesterday a hundred Christians held a protest in the village. Voicing their anger, they shouted: 'We want justice' and 'Brother Malkam is in the grave, why are his killers still out?'"
"We Christians are citizens of this country," said one of the demonstrators who was interviewed; "but they persecute us because we are a minority. We want to live peacefully and see the perpetrators of this murder punished."
Kenya: On Jan. 3, Muslims, including some from neighboring Somalia, murdered six Christians; most were burned alive in their homes. Speaking from the site of the attack, Pastor Stephen Sila of a local church said:
"It is an ugly sight of people's bodies lying dead and houses smoking with fire. This is undeniably an awful terrorist attack.... I counted seven houses that were torched down, four bodies of people burnt beyond recognition inside the houses. A body shot dead right outside a burnt house and another beheaded body next to it. Other villagers escaped into the dark and the police are still looking for them."
The widow of the beheaded man, a born Muslim who had long since converted from Islam, explained how the Muslim terrorists surrounded their home:
"They were accusing him of refusing to become a Muslim and hence being an enemy propagating bad religion. Soon he was pleading with them not to kill him, and thereafter there was groaning and screaming from my husband. The children started crying very loudly, and the attackers forced us to come out of the house."
Immediately the Muslims set fire to their home, prompting the wife and children—aged 4, 10, 12 and 15—to flee. When she returned, she found that her husband had been "beheaded and the head placed on his back."
South Sudan: On Jan. 6, people described as "Islamist extremists" slaughtered at least 28 people and torched 57 homes during a raid on a Christian community. This was followed by a "massive displacement," said Bishop Joseph Mamer Manot. He added that "the humanitarian situation is alarming as food and other property have been burned down into ashes, leaving survivors with no shelters, no food and no safe drinking water." According to the report, this "incident is the latest example of attacks against South Sudanese Christians by Arab Muslims from the Republic of Sudan, along the disputed border between the two countries."
Nigeria: Some of the accounts of terrorization and slaughter that Christians experienced in the month of January include:
On Sunday, Jan. 30, Fulani herdsmen murdered 11 Christians. An elderly great-grandmother, locally known as Mama Fide, was burned alive during the raid. Her grandson, Danjuma Enoch, explained:
"Grandma was unable to escape when the attack took place because she was very old and blind. While other people scampered to escape, grandma stayed back in her room which served as her last save [sic] haven.... Grandma was our surviving grandmother and a great-grandmother to many of our younger ones. We can only imagine how horrible it was for her to breathe her last this way after living long into her old age. Painful and sad. Grandma's blood will surely rise and speak against her killers and their sponsors."
During an Islamic ambush on five Christians returning home after a New Year's Eve prayer meeting, one Christian man was killed and "burned beyond recognition." The other four were injured but survived.
Muslim terrorists shot dead Fr. Luke Mewhenu Adeleke as he returned home after holding Christmas service in his church.
According to a Jan. 26 report, during a raid on a Christian community in Chibok, Muslims killed four people, abducted 24 others, and torched a total of 110 buildings (four churches, 73 homes, and 33 shops).
On Jan. 11, Fulani raiders murdered 18 Christians; on Jan. 22, they murdered four more.
According to a Jan. 6 report, Muslims connected to the Islamic State-backed faction of Boko Haram launched a raid on a Christian community; most of the residents managed to flee into the bush, although the assailants burned the community church and some homes and vehicles. The report added that
"The Nigerian Army has repeatedly claimed that insurgency had been largely defeated and frequently underplays any losses.

The terror group has caused over 100,000 deaths and displaced millions of individuals mainly in Adamawa, Borno, and Yobe States."
Rape and Other Abuses against Christians
Pakistan: On Jan. 4, another Christian girl, Mahnoor Ashraf, 14, was abducted, forced into Islam, and married to her abductor. The family immediately informed police that their Muslim neighbor, 45-year-old Muhammad Ali Khan Ghauri — with assistance from his friends, Muhammad Waqas, Muhammad Imran, and Raza Ali — had kidnapped their daughter. Muhammad's "house is on the same street, and our families had good terms with each other," said the girl's brother, Akram, suggesting that they never expected such behavior from their neighbor. Although the family filed a complaint with police, "the investigating officer was slow to act on their case... Finally, on Jan. 7, Ghauri's family informed us that Mahnoor had allegedly converted to Islam and married Ghauri on Jan. 4, the day she was taken." Local cleric Muhammad Ibrar performed the Islamic marriage despite knowing that the girl was a minor — and even falsified the marriage certificate, placing Mahoor's age as 19, even though her birth certificate clearly shows that she was born on Aug. 19, 2007. "The police are not doing anything to find Mahnoor," her brother concluded, adding that his mother's health is deteriorating "due to her state of shock and grief."
In a separate incident, a Muslim man kidnapped another 16-year-old Christian girl. According to the Jan. 25 report,
"She was drugged and then driven to Faisalabad... There, she was raped several times. The next morning, she was found by her mother Grace as she was laying [sic] unconscious on the street near her home..."
A local pastor said the perpetrator had been harassing the girl for months. Because she repeatedly rebuffed his advances, his harassment turned into full-blown rape. No arrest was made.
Nigeria: On Jan. 9, Fulani Muslim terrorists ambushed and forced a vehicle carrying two Christian brothers and their niece to stop. One of the brothers, Joel Maiwada, explained what followed on his Twitter account:
"We couldn't even move, so I stepped out. They started beating me with their gun handles and sticks, pushed me back to the car and they started robbing me, meanwhile my brother and my niece hid somewhere when the terrorists were after me. Then, they asked me 'are you a Muslim or a Christian?' ... and I told them I was a Christian, then they said 'you have entered our hand', and they intensified the beating."
Next they marched him to a cave where they kept him hostage:
"We climbed mountains, walked in Valleys at nights, I almost fell off a cliff, but they still don't care, they said it's a win-win because they will sell my organs if I fall and die." Maiwada eventually managed to have his family raise $24,000 to secure his release. Because Nigerian and Western mainstream media insist that raids by Fulani herdsmen on Christians are not ideologically driven, but are rather for resources and land, one Twitter user wrote, "After [Joel's experiences, including being asked if he's Christian or Muslim], some people will come and say there's no jihad agenda," to which Joel replied, "Well, they clearly have an agenda and it's clearly working and they are so proud of it, telling me no one can stop them."
Attacks on Apostates and Blasphemers
Uganda: Muslims beat a Christian widow, Jennifer, and her 16-year-old daughter, Olivia, unconscious; left unable to walk and with a spinal injury, the girl has had to stop attending school. The same Muslim villagers had killed her father a year earlier, for leading some Muslims to Christ, and tried to kill her mother and the daughter with a sword in October 2021. "The conversion of the six Muslims to Christianity disturbed and angered the Muslims," explained Jennifer, the mother; "this really ignited the fire of our persecution." Finally, on Dec. 30, around 1 am, Jennifer continued,
"The attackers then entered [he house] and started beating us, me and my daughter, with sticks and kicks. We tried to make an alarm, but all was in vain. They beat us so badly that both of us lost consciousness. When the cock crowed in the morning I regained my consciousness, but my daughter was still unconscious."
A church member arrived early in the morning to bring food, found the two women, and took them to a medical clinic.
Pakistan: On Jan. 3, a Muslim judge changed the life sentence that a Christian man convicted of "blasphemy" had been carrying out in prison, to a death sentence. Zafar Bhatti, 56, who had been languishing in jail since 2012 after being accused of sending blasphemous text messages, was sentenced to life in prison in 2017, under Section 295-C of Pakistan's blasphemy laws against defaming Islam's prophet, Muhammad. The change in sentencing came after one of his lawyers sought bail. "I haven't yet seen the written verdict, but it seems the prosecution managed to prevail over the court and got the sentence converted," said Bhatti's current lawyer. "Contesting the life term sentence in the Supreme Court would have been relatively easier, but now the case has become more complex."
Indonesia: On Jan. 10, a Christian politician was arrested for a tweet that was deemed offensive to Islam. He is facing up to 10 years imprisonment. On Jan. 4, Ferdinand Hutahaean, a Democrat Party politician had tweeted:
"Poor you, your God is evidently weak [and] must be defended. My God is amazing, [he] is everything. He is my defender, and my God does not need to be defended."
Soon after issuing this tweet, Ferdinand apologized in a video, saying his tweet was "an imaginary dialogue between my heart and mind" and was not directed at any particular religion. Regardless, the National Police's Criminal Investigation Agency named Ferdinand a hate speech suspect and arrested him shortly after. According to another report:
"Hutahaean joins the list of other Christians recently arrested and detained [in Indonesia] for insulting Islam on social media, such as Joseph Suyardi and Muhammad Kace. In Muslim-majority Indonesia, non-Muslims are easily targeted and charged of blasphemy in Indonesia, while Muslims committing similar offenses hardly receive any punishment for their actions."
Attacks on Churches
Turkey: On New Year's Day, unknown vandals desecrated three churches in Istanbul (formerly Constantinople). On one of the church doors, they spray-painted "Allah-1" (photo here). According to the report:
"Many of Istanbul's churches have previously come under attack. In July 2021, three people danced to loud music on the wall of the Armenian Church of Surp Takavor in Kadıköy.... In May 2020, an assailant ripped off a cross outside Surp Krikor Lusavoriç Armenian Church ... In May 2020, a man was detained for attempting to burn the entrance door of Dzınunt Surp Asdvadzadzni Armenian Orthodox Church..."
Indonesia: Muslims barged into a church during — and evidently in order to halt — a Christmas service (partial video of incident here). According to a Jan. 4 report:
"The residents interrupted the service and asked the church to turn off the worship music while speaking to the church leader. A woman from the church challenged the resident and said, 'It can't be like this. We worship during Christmas. It's Christmas. Christmas all over the world. The whole world celebrates Christmas. We should rejoice. [...] We celebrate Christmas, yet you disturb us.'"
The church had been worshiping in the same building for two years. The pastor told the authorities present that their worship was protected by the state and should not be disrupted. Regardless, because the church did not have the necessary permits — which are notoriously difficult to obtain in Muslim-majority Indonesia — the church was effectively shut down: "worship activities will no longer be carried out except as a house of prayer or a family house of worship," officials concluded. The pastor of the church "also agreed to take down the cross symbol that was installed in front of the building to avoid causing further dispute."
Egypt: On Jan. 6, an ancient Coptic monastery, founded in 442 AD, came crumbling down (video here), due to governmental negligence concerning those Egyptian antiquities that apparently happen to be Christian. The monastery's abbot had repeatedly submitted requests to repair their dilapidated and ancient walls, but the Antiquities Department never issued a permit. Even after the Jan. 6 collapse, a committee made a perfunctory appearance and submitted a report to Antiquities, no permit has been forthcoming. Because January 6 is also Christmas Eve for Orthodox Christians, including Copts, the church walls collapsed even as, ironically, Egyptian President Abdel Fattah Al-Sisi was visiting the Coptic Pope during Christmas Mass to congratulate the Christians of his nation and speak of Christian/Muslim solidarity.
Raymond Ibrahim, author of Crucified Again and Sword and Scimitar, is a Distinguished Senior Fellow at the Gatestone Institute, a Shillman Fellow at the David Horowitz Freedom Center, and a Judith Rosen Friedman Fellow at the Middle East Forum.
About this Series
While not all, or even most, Muslims are involved, persecution of Christians by extremists is growing. The report posits that such persecution is not random but rather systematic, and takes place irrespective of language, ethnicity, or location. It includes incidents that take place during, or are reported on, any given month.
Previous reports